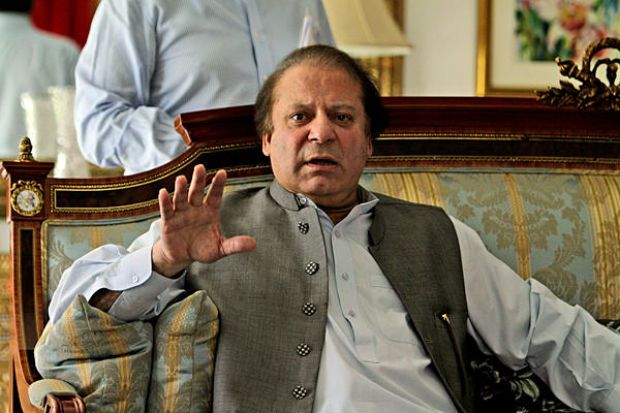 Pakistan Prime Minister Nawaz Sharif is in deep deep trouble. Not just because Indian forces punctured a big hole in Islamabad's "ready for any type of foreign aggression" claim by launching "surgical strikes" in its backyard, but also because political parties in Pakistan will now grab the opportunity to launch an attack on Nawaz Sharif who is already battling allegations of corruption domestically. 
India's Pakistan Tehreek-i-Insaf (PTI) Chairperson Imran Khan is already scheduled to hold a march in Sharif's home town of Raiwind where he will target the PM for his 'inaction' against India. 
Talking to reporters today, the cricketer-turned-politician said he will respond to both Indian Prime Minister Narendra Modi and Nawaz Sharif during his Raiwind March. 
In his statement to the media after the reports of Indian army's 'surgical strikes" against terrorists in PoK, which Pakistan has termed "Indian aggression on the Line of Control," Khan said he will respond to Modi in a way that Nawaz Sharif has been unable to. 
"Tomorrow, I will respond to Modi in a way that Nawaz Sharif has been unable to," Khan said.
The message that Khan wants to send out is that the target is Nawaz Sharif – deemed a weak PM after India dealt it with an embarrassment that he can't even respond to. Targeting Modi will any day be an added advantage for him. 
Nawaz Sharif is already facing charges of corruption after names of his two sons and a daughter were mentioned as having offshore companies in Panama Papers, leaked in April. Pakistan's tax authority Federal Board of Revenue (FBR) has issued notices to Sharif 's family members, whose names surfaced in the leaks.
Imran Khan has often demanded Sharif's resignation over the allegations of corruptions and India's surgical strikes has just added on more arrow to his quiver. 
No wonder then that the former Pakistan skipper chose to hit out at Nawaz for his "inability to govern" and said that "Gen Raheel is representing the nation," in a reference to the immense power the Pakistan Army Chief General Raheel Sharif enjoys in the current dispensation. 
"Whenever we talk about taking to the streets, the government starts to warn us about possible terror attacks," the PTI chief said.
Imran has claimed to gather half a million people for the Raiwind march. 
"People from all over Pakistan will participate in the march," the 63-year-old politician said.
He announced that he would go to Raiwind today as well. 
Earlier in the month, Imran had announced a march in Raiwind saying that it was "not anyone's father's property." 
The protest in Raiwind will be the biggest in history of Pakistan, Imran has claimed, warning of a violent clash if anyone tried to create hurdles in the protest.
"Nawaz and Shahbaz, both will be responsible in case of any mishap," he has said. 
Nawaz Sharif has often been targeted by opposition parties in Pakistan for his "friendship" with Narendra Modi. 
Pakistan Peoples Party (PPP) chief Bilawal Bhutto Zardari had in May had accused  Sharif of "damaging" the country's foreign policy by giving Modi a "certificate of friendship" and over his handling of the Kashmir issue.
"The premier damaged the foreign policy of Pakistan by giving Modi his certificate of friendship," he said at a rally in Bagh area of Pakistan-occupied Kashmir (PoK) on May 10.