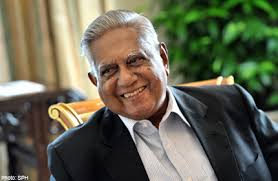 Indian- origin Singapore's former President S.R. Nathan suffered a stroke on Sunday morning and is  in a critical condition in the ICU.
92-year-old Nathan was warded in the Intensive Care Unit of a Singapore General Hospital after he suffered a stroke early this morning, the Prime Ministers Office said in a statement.
Nathan was the sixth and longest-serving president in Singapore and was in office for two terms from 1999 to 2011.
Nathan was in office for two terms from 1999 to 2011 and officially stepped down as President on August 31, 2011 after announcing that he would not seek a third term in office. He was succeeded by President Tony Tan Keng Yam.
After stepping down, Nathan took up appointments as Distinguished Senior Fellow at the Institute of Southeast Asian Studies and at the Singapore Management Universitys School of Social Sciences.
Prior to becoming President, he held key positions in the civil service, in security, intelligence and foreign affairs.
He was appointed as Singapores High Commissioner to Malaysia in 1988 and later Singapores Ambassador to the United States of America from 1990 to 1996.
He also served as Singapores Ambassador-at-Large, and later pro-chancellor of the National University of Singapore.
He is also a recipient of Pravasi Bharatiya Samman, the highest honour accorded to the Indian-origins oversees by the Indian government in 2012
President Tony Tan Keng Yam said: "Our thoughts and prayers are with his wife and family."
(With Agency inputs)