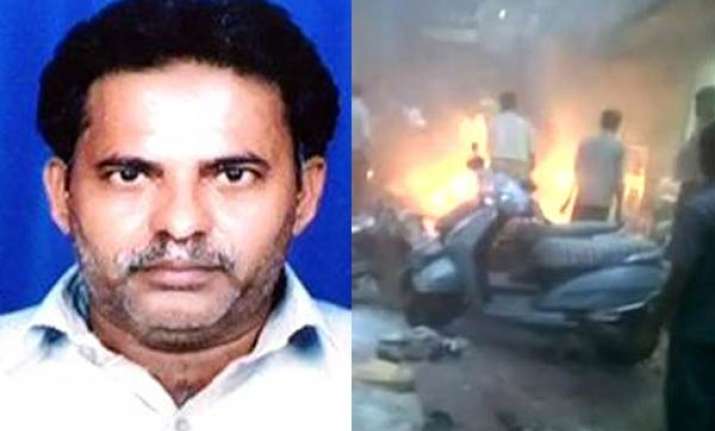 Mumbai, Jul 17:  The provisional post-mortem report of Faiz Usmani, who died in hospital today after being questioned in connection with last week's serial blasts in Mumbai, says that he had a heart attack and there were blood clots in his brain.

"Provisional post-mortem of Usmani suggests that 90 grams blood clot was found in his brain. He even had a heart-attack.  His heart has been kept separately for further medical examination," Deputy Police Commissioner (Crime) Nisar Tamboli said.


The report also says that no injury marks were found on his body, he added.

Usmani, brother of alleged Indian Mujahideen (IM) member Afzal Usmani, who is currently lodged in jail for his role in the 2008 Gujarat blasts, was picked up for questioning yesterday by Chembur's Crime Branch unit and was rushed to a hospital in Sion at around 5:50 PM as he was not feeling well.


He died at 1:30 AM today while he was undergoing treatment for hemiparesis and hypertension in the Lokmanya Tilak Hospital, doctors said.

Usmani's family alleged that he was tortured in custody. Maharashtra DGP Ajit Parasnis had ordered a CID inquiry into his death.

Usmani' son Azeem alleged that his father was picked up for questioning and "pressurised during interrogation. They are to blame for his death."


Usmani's wife Rubaida said, "When the police came to take him, they said that they will just interrogate him. He had gone alone. So we don't know what the police questioned him about. I don't know to what extent he was tortured, that he got so tensed. They came back in an hour saying he was unwell, he had vomited and admitted to Sion Hospital."

The Mumbai Police have, however, denied the charges.

"He (Faiz Usmani) was brought for questioning by the Chembur unit. He was suffering from hypertension and had not taken medicines for the last three-four days. He was admitted to the hospital last evening and the allegations of torture by police are absolutely untrue," Tamboli had earlier said.


Ryan Kumar, a doctor at the hospital, said, "He (Faiz Usmani) died due to brain hemorrhage. This condition usually comes when a person is exposed to some kind of shock". PTI