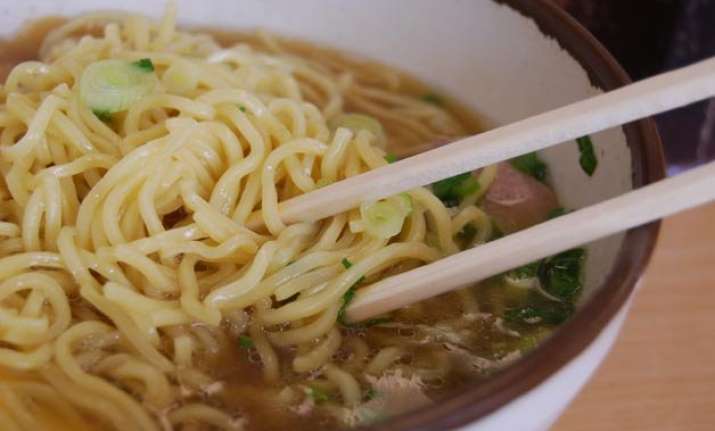 Uttar Pradesh: Barely months after the Maggi row created a storm over food safety standards in India, the Uttar Pradesh food safety department has now claimed to have found ash content beyond permissible limits in the tastemaker of some other noodle brands.
"The samples of Knorr Soupy Noodles, Horlicks Foodles Noodles and Ching's Hot Garlic Instant Noodles were picked up from a mall in the city in May last year for testing and its report was received about a fortnight ago," the Food Safety Officer of Barabanki district, Sanjay Singh, said.
An analysis of the samples by the government Food Analysis Lab in Lucknow found that "total ash of the tastemaker exceeds the maximum prescribed limits... hence the samples are sub-standard," Singh said.
Against the prescribed limit of 1 per cent, ash content was found to be 1.83 per cent in Ching's noodles, while in Foodles it was 2.37 per cent and in Soupy noodles it was 1.89 per cent, he claimed. Notices were sent to all the three companies a week ago giving them a month's time to make an appeal, he said.
When asked for a comment on the issue, a GSK Consumer Healthcare spokesperson said: "We manufacture Foodles as per product approvals received by us from FSSAI and manufacturing licences received by our third party manufacturer from the Authorities. Foodles available in the market have been manufactured in accordance with this product approvals."
A query sent to Hindustan Unilever, which sells Knorr range of noodles, remained unanswered. Capital Food, which markets Ching's Hot Garlic noodles, could not be reached for comment.
Singh said that the report did not mention the health hazards caused by ash content higher than prescribed limits.
Interestingly, the UP Food Safety Department in May last year had found high lead content and presence of taste enhancer monosodium glutamate (MSG) in samples of Maggi noodles.
Later in June, the Food Safety and Standards Authority of India (FSSAI) banned Maggi noodles, alleging that the instant noodles were "unsafe and hazardous" due to higher than permissible lead content and presence of MSG.
Nestle had then pulled the product off shelves. The instant noodle brand made a comeback in November after passing tests at three government labs, after which the Bombay High Court removed the ban.
(With inputs from PTI)