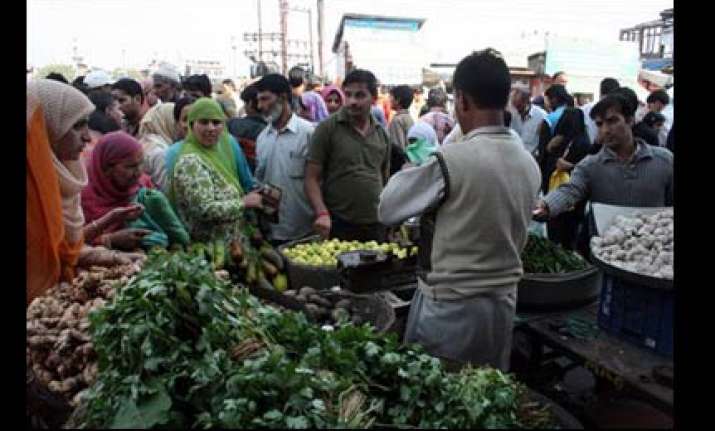 Srinagar, Oct 17 : With hardline Hurriyat Conference exmepting Sunday from its fresh calendar of strikes, vendors at the city's famous flea market today put up their stalls for the first time since Eid-ul-Fitr last month as the Valley remained peaceful for the second consecutive day.
The flea market, also known as Sunday market, had been closed since Eid-ul-Fitr as violent clashes between security forces and protesters had left nearly 20 persons dead on September 13.
"We have been able to set up our carts after nearly two months and hopefully, the customers will turn up to allow us to earn a livelihood," Bashir Ahmad, a roadside vendor, told PTI as he was arranging his products near poloview here.
Ahmad's wish came true as hordes of people thronged the market around 10 am.
More than 5000 vendors put up their stalls from TRC crossing near Abdullah bridge to Batamaloo, a distance of over three kms, to sell their merchandise which includes second hand items imported from abroad.
As per the industry estimates, the turnover of the flea market for each Sunday had crossed Rs eight crore before the present turmoil engulfed the Valley on June 11.
Encouraged by the success of the roadside vendors, Jammu and Kashmir bank last year launched a micro credit facility for them so that they can expand their business.
Meanwhile, a police spokesman said the law and order situation across the Valley remained peaceful since last night.
"Preceding night passed off peacefully and the situation at this hour is normal and under control throughout the valley," he said, adding, there were no reports of any untoward incident from anywhere.
However, the spokesman said restrictions under section 144 CrPC, which prohibits assembly of four or more persons at any public place, were in place in Palhallan and Delina areas of Baramulla district. PTI