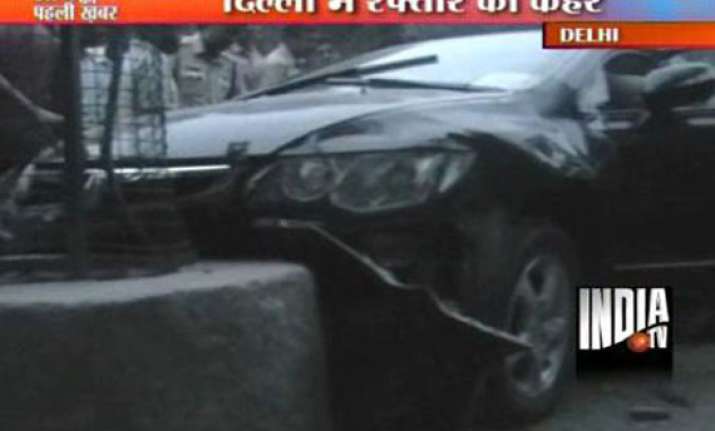 New Delhi, Apr 21: Six people, including four children, suffered injuries after they were hit by a speeding Honda Civic in Vasant Vihar on Friday evening, police said. The car bearing
registration number DL3 C BE 1075  was being driven by Dilip, a cleaner who had taken the keys from the owner on pretext of washing it. Dilip has been arrested and police said he did not possess a valid driver's licence.  
The victims have been identified as Pooja (6), Mohit (6), Kajal (6), Rashmi, (7), Ganga (28) and Saaudaan (32), residents of Kusumpur Pahari in the vicinity. Dilip is also a resident of the same area.  
The incident took place around 5pm outside Chinmaya Vidyalaya when the children, who study in the MCD school in the area, were waiting to cross the road on their way home, police said.
The car was being driven at a high speed and the driver probably lost control over just before reaching the spot.
"He came straight and rammed into the children who were standing with their parents. One of the children's right leg was crushed under the wheels," said a senior police officer.  
"The car finally stopped after hitting a pole. Witnesses caught hold of the driver and informed us about the incident around 5.15pm," the officer said. The victims have been admiited to AIIMS. Hospital sources said they were stable but two children had fractures.  
Dilip has been booked for attempt to commit culpable homicide under IPC 308 along with rash and negligent driving under IPC 237. The car has been impounded and the owners have also been called for questioning, said a senior officer.