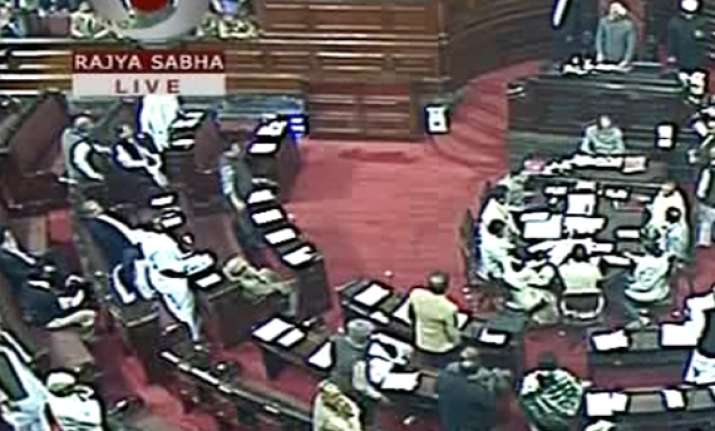 New Delhi, Dec 20: BJP today disrupted proceedings in the Rajya Sabha to demand Home Minister P Chidambaram's resignation leading to adjournment of the House for the day.

Unrelenting BJP members alleged that Chidambaram had "misused" his office to help a Delhi-based hotelier.

The House witnessed three adjournments before P J Kurien, who was in the Chair, adjourned it for the day at 3 pm.

Even as the Chair pleaded with members to maintain peace, protesting BJP members trooped into the well and shouted slogans against Chidambaram.

They raised slogans like "loktantra mein bhrashtachar nahin chalega" (corruption will not be allowed in democracy) and "Chidambaram ka bhrashtachar nahin chalega" (corruption by Chidambaram will not be allowed) in the House.

The trouble started during Question Hour.

After allowing a few issues of public importance during Zero Hour, the BJP resumed its protest against the Home Minister.

Deputy Chairman K Rahman Khan first adjourned the House at 12:30 pm, half an hour ahead of the scheduled lunch break, amid uproar by BJP members.

When the House resumed at 2 pm, noisy scenes continued and the Chair adjourned the proceedings first till 2:30 pm and then till 3 pm.

However, the BJP did not allow it to function after 3 pm and forced its adjournment for the day.