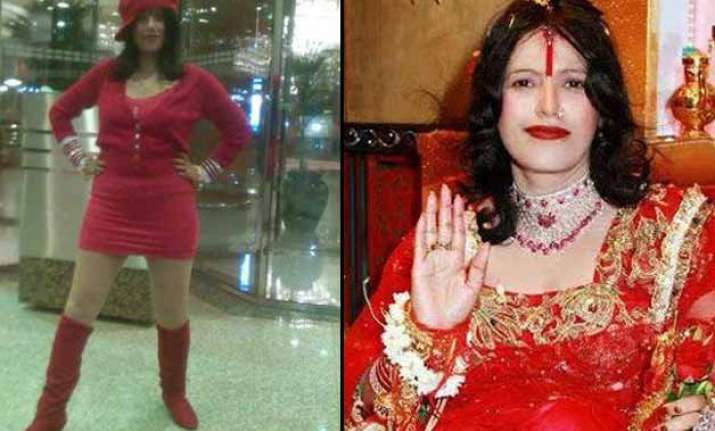 Mumbai:  A Bollywood  producer has claimed that the controversial goswoman Radhe Maa, once upon a time, was in a romantic relationship with him.
 "I and Radhe Maa were in a romantic relationship," Sharma told a TV News channel.
Ranjeet Sharma said that Radhe Maa was involved with her when she was already married and mother of two children.
Sharma, who is expected to make a Hindi movie exposing Radhe Maa's rise to fame, also said that she is not a godwoman, rather she is a "fake" woman.
"Radhe Maa had expressed her desire to make her debut in Bollywood as an item-girl," Sharma claimed.
Bollywood director-producer Subhash Ghai, former cricketer and former BJP MP Navjot Singh Sidhu, ad maker Prhalad Kakkar, BJP MP Manoj Tiwary  and many other celebrities are among them who actually follow Radhe Maa religiously.
Many devotees have been led to believe that Radhe Maa is an avatar of Goddess Durga. The 50-year-old, who is rarely seen without her garish red and gold attire and trident, apparently encourages that impression.
Ranjeet Sharma's statements against Radhe Maa might upset her followers. The self-proclaimed godwoman landed in serious trouble when a woman filed dowry harassment case against her.
Radhe Maa's style of blessing her devotees is apparently to dance with them and let them lift and carry her.
Last week, a 32-year-old woman had filed a complaint of domestic violence and dowry harassment against her in-laws and Radhe Maa. She alleged that the 'godwoman' instigated her in-laws, who have been her followers for last several years.
She faced more trouble when her pictures in mini skirt appeared on public domain. The images and her videos, in which she was seen dancing on Bollywood songs, have gone viral on internet.