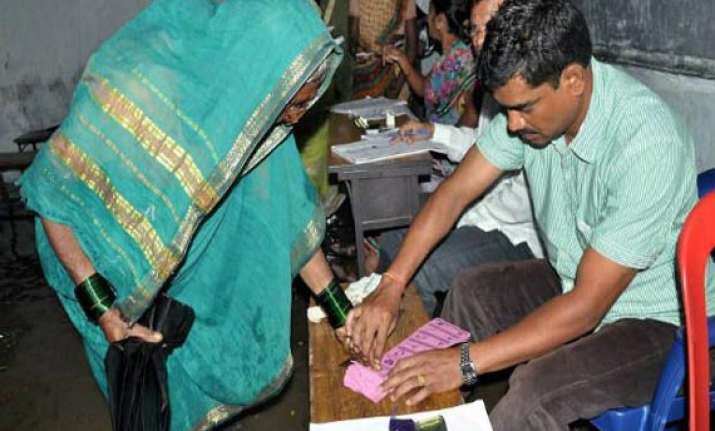 Hyderabad, Aug 1 : Over 85 per cent polling was reported in the third and final phase of gram panchayat elections in Andhra Pradesh on Wednesday. .
85.53 per cent of electorates turned up for voting. The poll percentages in the first phase (on July 23) and second phase (on July 27) were 83.96 and 87.32 respectively, State Election Commission officials said here.
The overall polling percentage was 85.73 in the state which has 3,94,01,855 voters, including 1,97,52,741 women.
The polling was originally supposed to be held in 21,491 panchayats, but the voting was either countermanded or "adjourned" (to be held later) in several gram panchayats due to various reasons like heavy rains, law and order issues, deaths of candidates.
The elections were held without party affiliation, but the sympathisers of ruling Congress and main Opposition TDP have reported to have done well.
The model code of conduct, that came into force on July 3, came to an end tonight.
Counting of votes in the third phase began at 2 pm after the polling, which started at 7 am and concluded at 1 pm.
Meanwhile, reports from Kadapa district said a Panchayat poll candidate died of shock after he came to know about his defeat.
Naganna, who contested for the Sarpanch post in Ponnam Palli village in Mylavaram mandal, lost the election by a narrow margin.
When he came to know about it, he suffered a heart attack at the counting centre and died while being shifted to a hospital, the reports said, quoting his supporters and family members.
In another incident, a woman candidate allegedly committed suicide after losing the poll. Sunitha, who contested for Seetampalli village Sarpanch, consumed some poisonous substance when she came to know about her defeat, the reports said.
Police have registered a case and investigating both incidents.