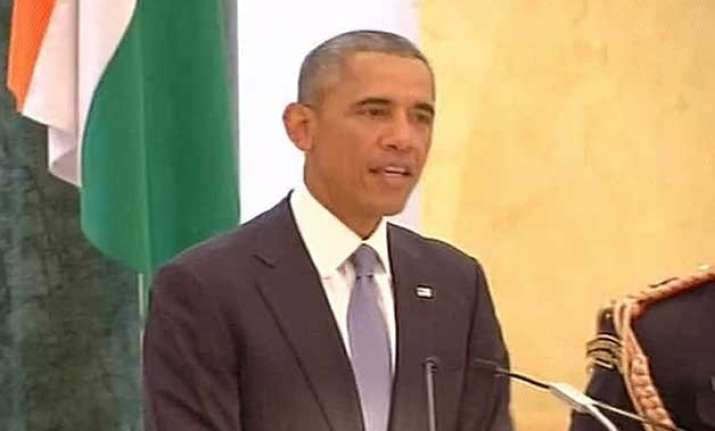 New Delhi: I wanted to wear a 'Modi kurta', said US President Barack Obama as he raised a toast at the banquet hosted in his honour by President Pranab Mukherjee. As he started his speech, Obama said, "We feel your friendship, 'dosti' and I am deeply honoured."
He recalled a headline back home which asked who is the new fashion icon other than Michelle Obama and said "I was thinking of wearing a Modi kurta myself."
He appreciated Prime Minister Narendra Modi saying he is tough and has a style.
"I most often said that my story could happen in America and of course Mr Prime Minister, your story can happen only in India."
Recalling Modi's childhood days when his father was a tea vendor and his mother was working in other households, Obama said, "Tonight their son welcomes us as the Prime Minister of world's largest democracy.
"Now we all know about Prime Minister's legendary work ethics. He (Modi) was explaining to me today that how he got only three hours sleep today which made me feel bad. I was doing ok with five.
"What I didn't know that he survived an attack by a crocodile. So he is tough and he also has style.
Obama recalled his earlier visit to India when he had joined some children in Mumbai on the eve of Diwali. "Last time we were over here, we joined some children in Mumbai for Diwali and we danced.
"It was clear what the Indian press thought and one headline was President Obama visits India and the other said Michelle Obama rocks India. It is true that Michelle Obama is better dancer than me."