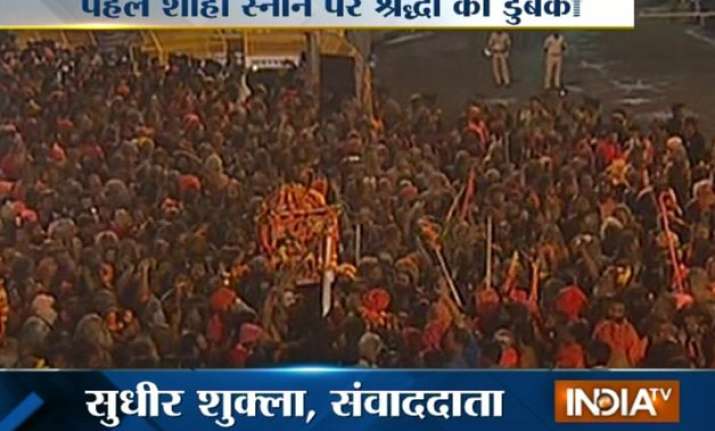 Nashik: Today is the first day shahi snan (holy dip) at Nashik and Trimbakeshwar towns during the ongoing Kumbh Mela.
Thousands of mahants and sadhus, belonging to the Digambar, Nirmohi and Nirvani akhadas of Vaishnava sect, would take the first holy dip in Nashik, while those of the 10 akhadas of Shaiva sect would do so at Trimbakeshwar, 30 kms from here.
The Nirvani akhada started its procession at 6.00 AM and the mahants and sadhus of this akhada reached the Ramkund ghat for the bath by 7.00 AM while the Digambar akhada started its procession at 6.30 AM and reached Ramkund at 7.30 AM.
The Nirmohi akhada started its procession at 7.00 AM and reached Ramkund at 8.00 AM for the royal bath.
After the bath, the mahants and sadhus would return to their camp at Sadhu Gram through a separate route.
Arrangements have been made for heavy deployment of police force, which consist of top officials, the Rapid Action Force (RAF), the State Reserve Police Force (SRPF) and bomb detection and disposal squads.
Almost all the roads leading to the Godavari river in 3.5 km radius of the ghats would be closed and made 'no vehicle zone'. Some crossover points have been identified for the convenience of the local residents.
All basic amenities like toilets, drinking water, health services, ambulance services, food points, sheds for aged people at the outer and inner parkings, signboards displaying directions among others have been set up.
 
A well-equipped control room has been set up in both at Nashik and Trimbakeshwar to monitor the situation.
The administration has also prepared separate routes for itself and others in case of any emergency.
The Nashik division of Maharashtra State Road Transport Corporation (MSRTC) will provide 3,000 buses at Nashik and Trimbakeshwar to carry the devotees from all the outer parking points to the inner parking points, non-stop throughout the day.
About 80 lakh devotees from different parts of the country are likely to participate in the holy dip in Nashik city.