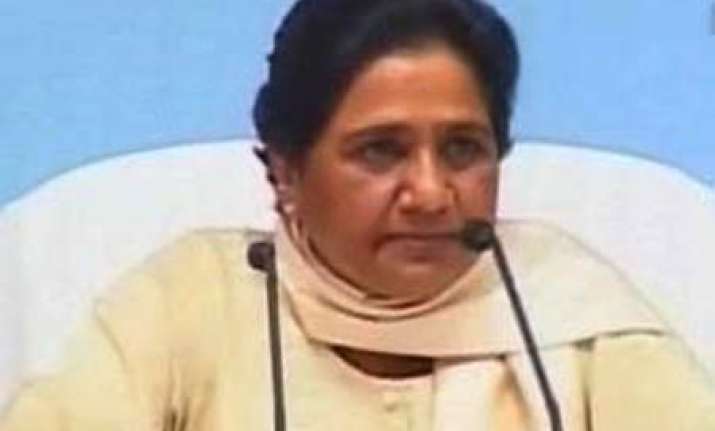 Lucknow, May 12 :Uttar Pradesh Chief Minister Mayawati today lashed out at Congress leader Rahul Gandhi saying that the 'Yuvraj' of Congress Party should focus more on his own party's government at the Centre in getting the Land Acquisition Bill amended. 

In a hard-hitting statement at a press conference here, Mayawati rejected Rahul Gandhi's demand for release of Bhatta Parsaul farmers, saying that most of them were anti-socials who had abducted three employees of UP Roadways and had beaten up policemen.

Mayawati clarified that the  farmers agitation in Bhatta Parsaul was not at all related to the Yamuna Ganga Expressway. The land was acquired in 2009 by the Greater Noida authorities for 'development' under the Master Plan and all the farmers have already taken the compensation money, she added.The feisty BSP supremo told the media to highlight the issue of compensation to farmers in Rae Bareli for land acquired for the Railway coach factory.

Mayawati pointed out that farmers in Rae Bareli had yesterday stopped their local MP, UPA chairperson Sonia Gandhi's carcade and demanded better compensation and jobs for family members in the Railway in lieu of their land.

"The opposition parties who are stoking the fire among farmers over a non-issue in Bhatta Parsaul should first go to Rae Bareli and raise the compensation issue", said Mayawati.

Mayawati described as "low grade theatrics" Rahul Gandhi's 19-hour long dharna in Bhatta Parsaul village and said the Yuvraj of Congress should fight the battle in his own home, "where it seems nobody is listening to him".  She advised Rahul to get the Land Acquisition Bill amended in Parliament by pressurising his own party's government.

Those who should have been fighting on the farmers' issue in Parliament are unnecessarily raking up the issue in Uttar Pradesh, said Mayawati. My government will not allow anybody to take political advantage on this issue, she added.

Mayawati rejected accustations that the BSP was in league with the Congress. On the contrary, she alleged, both the BJP and Samajwadi  Party are in cahoots with the Congress. She said, the farmers issue was being deliberately raised by opposition parties with an eye on next year's UP assembly elections.

I will not allow anybody to play with law and order, said Mayawati. On one hand  hoodlums and anti-socials are getting support in Bhatta Parsaul, while farmers on the other hand are agitating in Rae Bareli, the chief minister added.