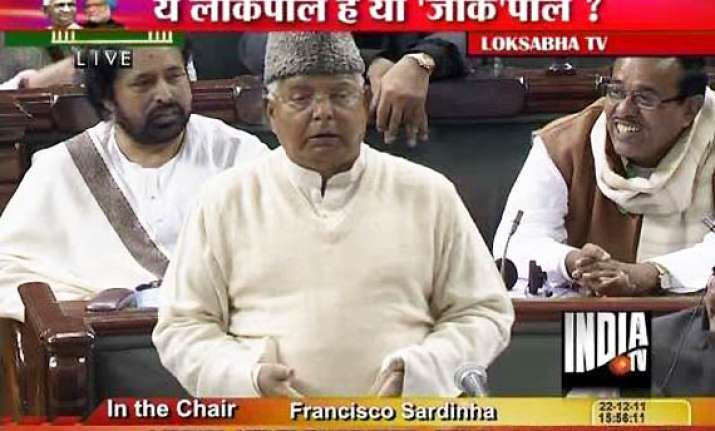 New Delhi, Dec 22: It was RJD leader Lalu Prasad who stole the show during the introductory debate on the Lokpal and Lokayuktas Bill in Lok Sabha today.
 
The portly former Bihar chief minister had the members from both the Congress and BJP benches in splits as he meandered through his comic monologue.
 
Lalu  was at his irrepressible best in the Lok Sabha today as he used his rustic wit and humour to send a message against rushing through the Lokpal Bill, taking potshots at Anna Hazare and his Team.

"Don't put the noose around your neck," the RJD chief appealed to the packed House, saying "Parliament cannot be run from the footpath. We are the lawmakers."

Prasad's poser was "how many friends of (Suresh) Kalmadi you want to make? If an ex-MP comes, he doesn't get place even in the bathroom," evoking laughter. He said the Lokpal would open a Pandora's box for the lawmakers themselves, both past and present.

In the midst of his hilarious remarks, he said "I was born in 1948. Mere aane se pahle hi Angrez bhag gaye (even before I arrived, British fled)". This sent the House into peals of laughter.

Repeatedly saying that he was not against the Bill as was being projected, Prasad went out of the way to woo the media saying that it should be exempted from the ambit of the Lokpal, maintaining it was doing "nothing wrong but giving publicity" to politicians.

In this context, he said Union Minister Kapil Sibal's photographs were being well-published in the newspapers. Then he turned to another Minister Pawan Kumar Bansal saying he has a file tucked in his armpit and feels like he is running the government.

Taking dig at the BJP and its leaders, the RJD chief said the opposition party should realise that Advani or Narendra Modi could become Prime Minister one day and the provision to include Prime Minister would affect them.

He also had a word of advice for the BJP saying it should "not suppress a good leader like Rajnath Singh".

Amid cries of 'Shame, Shame', Prasad said a retired police officer, two advocates and one social activists were dictating Parliament. "Three-four people cannot dictate Parliament. We are the lawmakers."

"They (Team Anna) are alleging that 184 thieves are sitting in Parliament. Parliament is being projected as traitor," he said.

"Do not become party to wrong-doings. History will not absolve you", he told the political parties in his 25-minute speech.

On Hazare's hunger-strike threat, Prasad said, "If someone goes on fast for the benefit of his health, what do we have to do with it?" He also advised Hazare, saying he should pay attention to his health.

Maintaining that the bill was "not a strong one" and was "worthless", he said it should be sent to the Parliamentary Standing Committee.
 
Some of the nuggests from his speech:
 
--The country will never forgive this Parliament if it passed Lokpal Bill in a hurry.
 
--Parliament will not be allowed to be run from the footpaths and streets
 
--Anna Hazare, I respect him, he should be careful about his health
 
--a retired police officer, a retired government servant, a man claiming to be Gandhi cannot hijack Parliament
 
--I thank government for not falling into BJP trap by omitting Minorities from reservation for Lokpal.
 
--A nation is run on the strength of power, elan, not on the basis of agitations
 
--How can you bring ex-MPs  under Lokpal? How will an ex-MP who lost elections face prosecution?
 
--People feared we in Parliament (Lalu, Mulayam) will tear up copies of Lokpal Bill. This we didn't do, but from the look of bill it seems it has been surrounded from four sides by barbed wires
 
--Parliament is being dictated to. It is shameful, we are a lawmaking body.
 
--How did you bring media under Lokpal, is it because it is run by corporate houses? Don't rush things in a hurry.
 
--I oppose bringing PM under Lokpal. PM is not only PM, he is the leader of the country. When our PM goes abroad, and if Lokpal institutes cases against him, what will the foreign head of state think about our PM? Where will be our face? Keep PM out of Lokpal
 
--If you bring a wrong Lokpal law, it may be that we may have to sit again to repeal it like the POTA law.
 
--This Lokpal bill is useless, send it to the Standing Committee again.
 
--They (Team Anna) said there are 180 'thieves' in Parliament. Are we thieves? They said we are traitors (gaddar). I was born in 1948, a year after the British went away.
 
--Don't give even an inch of CBI to the Lokpal.
 
--This House has two-and-a-half more years in its tenure. So don't push this bill in a hurry.