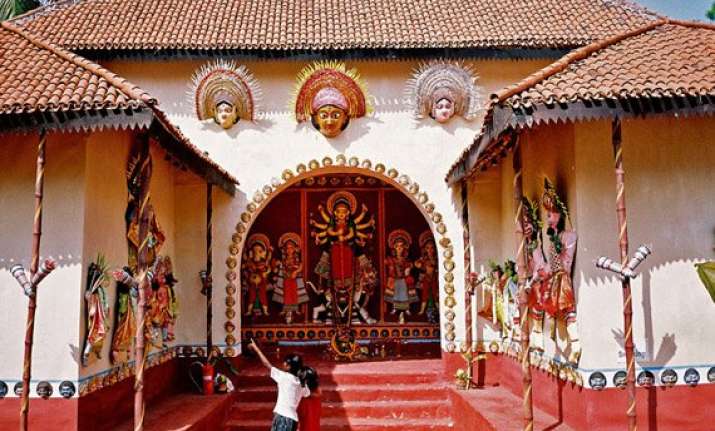 Kolkata: Ecology is the dominant theme with the top notch puja organizers this time in the city, which is famed for turning the festival into a veritable art exposition.
Organisers of Dumdum Park Sarbojonin, which has won several awards in the past, seeks to turn the visitors' gaze to the plunder of nature and the tribals.
"We have sought to portray the plunder of our resources through motifs. We have also tried to show and how aghast the Goddess is at this," Atanu Maity, spokesman for the organisers said.
The pandal itself has a bright round dome placed above the sanctum sanctorum denoting life. Birds are seen flying out from cages around the brilliantly crafted terracotta statues of santhal women placed amidst forest greenery.
There are efforts to showcase the local art forms - the clay horses of Bankura, the dokra elephants and models of 'goyna bori', a papad-like eatable made of lentil in the shape of ornate jewellery (goyna in Bengali) from East Midnapore.
The puja at Bhawanipur 75 Pally, which is celebrating its golden jubilee, the theme is motherland and the soil of all the 19 districts of West Bengal was used to build the wall of a makeshift temple.
"The terracota artefacts portraying the dokra artisans of Bankura and the mango orchard workers of Malda are about the profession of people from the grassroots," Kartik Banerjee said on behalf of the puja committee.
Concern for a green earth is the theme in BH block puja of Salt Lake, which portrays growth and fertility.
"In Indian culture green symbolizes our relation to soil, plants and life besides properity as symbolised in our national flag," Arindam Basu said on behalf of the organizers.