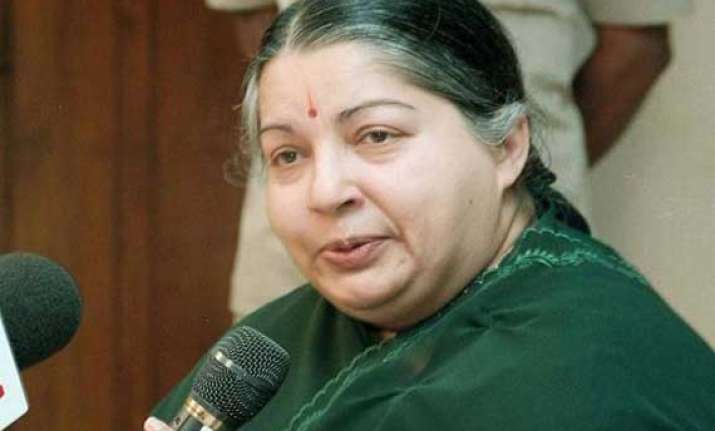 Chennai: A court here today adjourned the income tax return cases against Tamil Nadu Chief Minister Jayalalithaa and her aide Sasikala to August 7.
Additional Chief Metropolitan Magistrate R Dakshinamurthy allowed the petitions of Jayalalithaa and Sasikala seeking adjournment citing pendency of their plea for compounding the alleged offences against them before Income Tax authorities.
"The plea before the tax authorities has been posted for hearing on July 28 and therefore until the compounding application is decided on merits, further proceedings before this court may not be initiated," the defence prayer said.
Further, "in view of the same, personal appearance may not be warranted today," the defence counsel told the court.
Allowing the plea, the ACMM directed the defence counsel to file a status report on the compounding plea before the tax authorities on August 7.
During the previous hearing on June 30, the defence counsel filed petitions informing the court that applications had been filed before tax authorities seeking compounding the alleged offences.
The prosecution told the court that the tax authorities on June 25 had acknowledged receipt of the compounding plea.
Allowing adjournment petitions, the case was posted to July 24 and the defence counsel was directed to file a status report on the proceedings before the tax authorities.
The income tax department had launched criminal proceedings against Jayalalithaa and Sasikala for allegedly not filing returns in their individual capacity for the assessment year 1993-94.
Complaints were also filed by the IT department against Sasi Enterprises represented by its partners, Jayalalithaa and Sasikala for allegedly failing to file returns for the assessment years 1991-92 and 1992-93.
Discharge petitions filed by the accused were later dismissed by the Madras High Court. Jayalalithaa and Sasikala preferred appeals before the Supreme Court. Dismissing their appeals on January 30, the apex court had directed the lower court to complete the trial in four months.
When the case came up for hearing on April 3, the trial court had dismissed Jayalalithaa's petition praying for exemption from personal appearance and directed her to be present before it on April 10.
The ACMM on April 10 had directed Jayalalithaa and Sasikala to appear before it on April 28 for framing charges and answering questions.
However, both did not turn up and adjournment petitions were filed citing the Supreme Court order granting three more months for completion of trial. The matter was posted to May 19.
On May 19, it was submitted that due to the death of the mother of the counsel (B Kumar) on record, he would not be in a position to appear before the court till June 1. The case was then adjourned to June 3 for fixing a date for the appearance of the accused.
On June 3, it was contended that Jayalalithaa who is also the Chief Minister of Tamil Nadu had programmes already fixed and Sasikala was indisposed. The adjournment petitions were allowed conditionally and the case was adjourned to June 30.