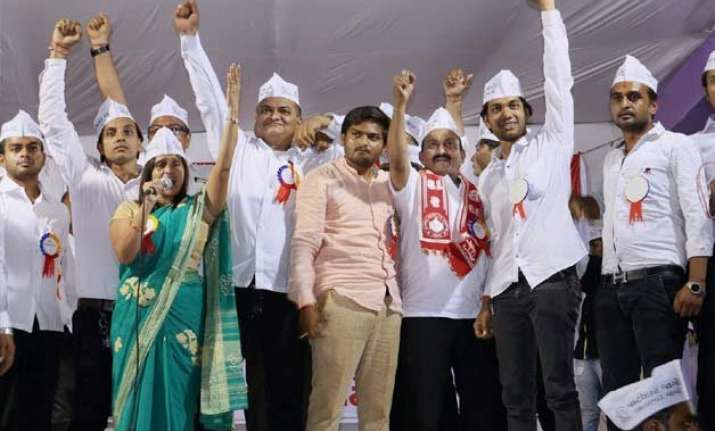 Ahmedabad: The Gujarat High Court on Thursday rejected Patel quota agitation leader Hardik Patel's plea seeking recall of its order for police inquiry into alleged sedition charges slapped against him and to register a case if required.
High court judge J B Pardiwala dismissed the petition filed by Hardik.
Clarifying that in its previous order, Hardik had not been named as an accused, the high court said the quota leader will be addressed so only after an FIR is filed against him under the sedition charge.
"I am of the opinion that the order passed by this court is innocuous and all that is said is a Police Inspector shall look into the complaint," the judge said.
"If the complaint fails to disclose any cognisance, there is no requirement to file any FIR. Court did not issue any mandamus (command) to register an FIR under section 124 (A) of Indian Penal Code. It is not under the power of this court under article 226 to issue such mandamus," he said.
Hardik had moved the plea in the high court to recall the order in which it had directed the Vastrapur police to inquire into the charges of provocative speech given by him during the August 25 Patel rally in Ahmedabad.
The high court had also directed the police to register an offence if the contents of his speech were found to be seditious.
Yesterday, Hardik's lawyer Babu Mangukia moved the plea contending that his client was not heard by the high court before passing the order.
However, the state government opposed the plea saying, "Hardik is suspect in the case."
Public prosecutor Mitesh Amin told the high court that the plea to recall the order has been passed at an earlier stage, when no offence was even registered against Hardik.
Amin said Hardik can file a plea only after an offence is registered against him and he may move petition to quash any FIR against him. "But Hardik is a suspect in the case as of now," he said.
On Tuesday, the high court had ordered an inquiry into the charges of sedition against Hardik, based on a plea filed by Narendra Gadhvi of Gandhidham in Kutch district.
Gadhvi, who filed the plea through advocate R K Rajput, stated that the Patel leader had on August 25 appealed to the community members to reach the national capital and bring road and rail traffic to a halt. He also provoked the Patels to take law in their hands, he alleged.
"Since the police refused to accept my complaint, I moved the court," Gadhvi said in the petition.
The HC had asked the police to conduct an inquiry and disposed of the petition.
Hardik (22) has been leading the agitation of Patel community for reservations which had turned violent after the August 25 rally and claimed the lives of 10 people including a police constable across Gujarat.