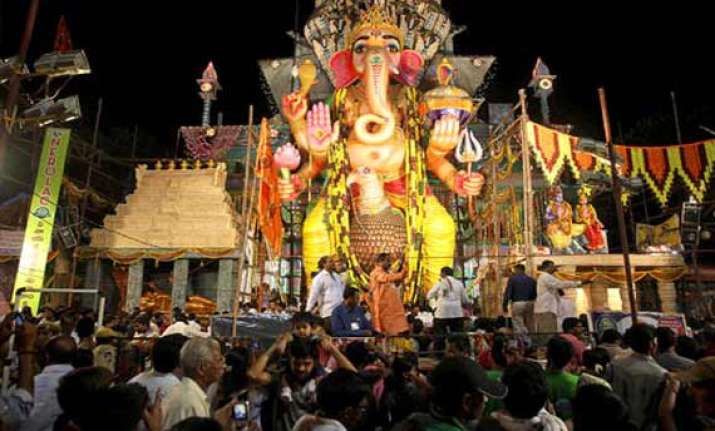 Hyderabad: A festive spirit envelopes the city and other parts of Telangana as Ganesh Chaturthi began Friday with religious fervour.
Hundreds of devotees performed 'puja' in Ganesh temples and to idols installed at specially decorated 'pandals' or makeshift platforms erected by various neighbourhood and traders' associations.
Andhra Pradesh and Telangana Governor E.S.L. Narasimhan and his wife performed 'puja' to the huge idol installed at Khairatabad near Raj Bhavan, the official residence of the governor.
A large number of devotees including VIPs made a beeline for worship at over 50-feet-long idol, the tallest in the city, at Khairatabad.
The governor said he prayed for the happiness and prosperity of people of both the Telugu states.
This is the first Ganesh Chaturthi after bifurcation of the state. Andhra Pradesh Chief Minister N. Chandrababu Naidu offered puja at Telugu Desam Party (TDP) headquarters in Hyderabad. He wished for the well-being and development of people of both the states. TDP leaders from both the regions greeted Naidu.
According to Bhagyanagar Ganesh Utsav Samithi, over 50,000 idols have been installed in and around Hyderabad for the 11-day long festival this year. This is in addition to small idols installed in apartments and individual houses.
The idols of different sizes, shapes, colours and in myriad forms have been installed on streets in major markets and residential localities across twin cities of Hyderabad and Secunderabad.
Hundreds of trucks and smaller vehicles were seen carrying the idols from Dhoolpet area to their destinations. The devotees were doing the last minute shopping for marigold flowers, leaves and other materials for puja.
The sweet shops and the supermarkets were also teeming with people, buying sweets and groceries for the festival.
Police have made massive security arrangements for the festival, especially in the communally sensitive old city. Over 15,000 policemen and paramilitary personnel have been deployed in the state capital.
The festival will conclude with a mammoth procession Sep 8 when thousand of idols will be immersed in Hussain Sagar Lake in the heart of the city.
The festival also began in other parts of Telangana with people installing idols at homes and on streets.
The festival is celebrated on a massive scale in Hyderabad and other parts of Telangana but is a low-key affair in neighbouring Andhra Pradesh.