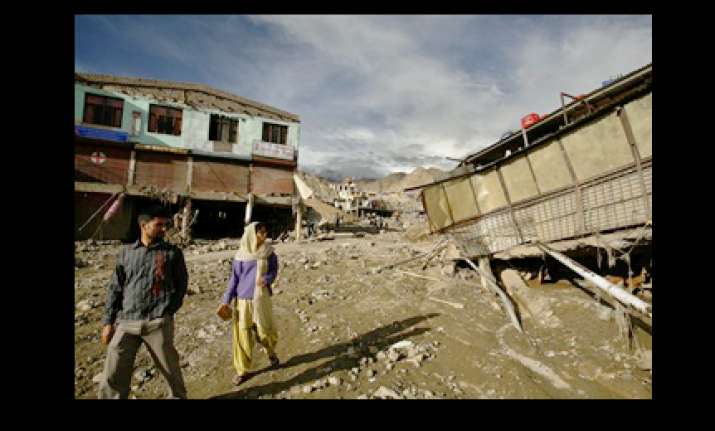 Leh: Five armymen were killed in the cloudburst at Leh and other areas of the region while 33 personnel, swept away in flash floods that struck a camp near Siachen glacier, are yet to be traced.
The Army has sought Pakistan's help to rescue the soldiers, including three junior commissioned officers, who were manning Tyakshi post in Turtuk sector, about 150 metres from the Line of Control, officials said on Monday.
The personnel still remain untraced despite the Army deploying men, helicopters and catch nets in nearby river Shyok. Official sources said the Director General Military Operation has informed the Pakistani counterpart about possibility of some army personnel being washed away in areas under their control.
The soldiers had faced the fury of a swollen Shyok river on Friday when Leh was hit by flash floods following a devastating cloudburst. The missing personnel belonged to Bihar Regiment and Raj Rif Regiment, GOC of 14 Corps Lieutenant General S K Singh said in Leh.
It is feared that some of the missing personnel could be buried under slush. Unlike in other places where the height of slush is about 4 to 5 feet, it is about 20-25 feet where the army camp had once stood, Singh said.
"The cloudburst has done a lot of damage to civilian as well as the military establishment," he said.
The Army also reported the death of five of its personnel in the cloudburst at Leh, Choglamsar, Nimu, Tyakshi, Batalik and Karu in the region.
 It said defence personnel, their aircraft and equipment continued to be deployed in the relief and rescue efforts.
The Army said its has deployed 41 columns comprising 4,100 men today in the ongoing relief operations at Leh and adjoining areas hit by calamity.
In addition, Army troops are assisting Border Roads Organisation (BRO) in creating diversions at several damaged bridge sites on National Highway-1D. Two of the 11 bridges that were damaged in the cloudburst were made operational at Phyang and Choglamsar, it said.
Communication requirements of the district administration were being maintained by two INMARSATs equipment provided by the Army. PTI