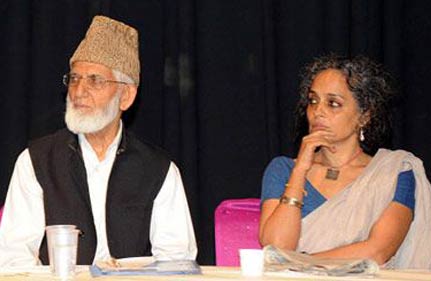 New Delhi, Nov 27: A local Court today directed the Delhi police to lodge an FIR against hardline Hurriyat leader Syed Ali Shah Geelani and writer Arundhati Roy on charge of sedition for their alleged anti-India speeches here recently.
Metropolitan Magistrate Navita Kumari Bagha also came down heavily on the police for their prolonged inaction and "weird" reply that no offence was made out against Geelani and Roy, whose speeches had triggered a controversy.
"After giving my thoughtful consideration to the submisisons made and the material on record, I have come to the conclusion that the complaint lodged with the police, clearly discloses commisison of cognizable offences," the court said, acting on a petition.
The court asked the police to conduct the investigation and submit a report on  January six.
While slamming the police, the court said "But, in the present case, the police has utterly failed to register the FIR for no reasonable justification, though the complaint of the complainant clearly discloses the commision of cognizable offence."
Besides the Hurriyat hawk and the noted writer, other five accused, against whom the FIR would be lodged, are S A R Geelani, an accused in the Parliament attack case who was later acquitted, Sheikh Showkat Hussain, Shuddharbrata Sengupta and Sujato Bhadra.
They would he booked under various provisons of the IPC and the Unlawful Activities (Prevention) Act relating to sedition, waging war against Government of India, promoting enmity between classes and imputations against integrity of the nation.
Complainant Sushil Pandit in his petition had alleged that the Hurriyat leader and Roy had made anti-India speeches in a conference on "Azadi-the Only Way" held here on October 21.
Roy had termed India as "colonial ...upper caste Hindu state", the complainant alleged, adding that he was forced to approach the court for remedy as the police chose not to act.
The court was critical of the delay in lodging the FIR in the case saying "despite the grant of time till November 26, no status report was filed by police, rather a weird reply was given... in which they have either admitted or denied the contents of the complaint."
It considered the fact that even police, in the report, have admitted the fact that the speeches were against the state.
"Though, the police have admitted that the totality of the speech made by Geelani was regarding the independece  of the people of Jammu and Kashmir, yet surprisingly it has been stated that no FIR could be registered because of mens rea (lack of motive) and evidence of malafide intention of Geelani and Roy." PTI