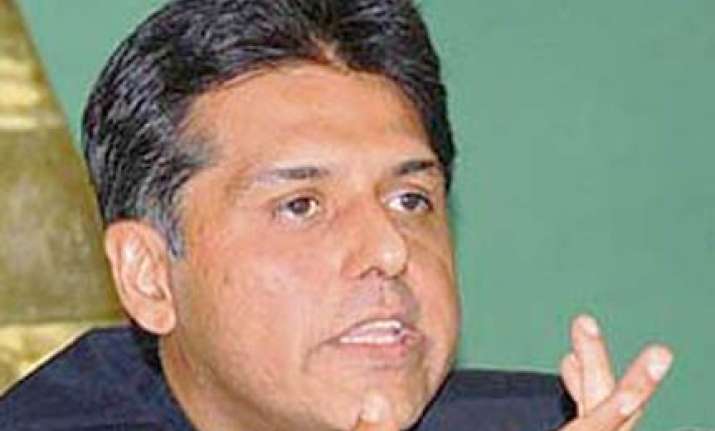 With BJP-JD(U) rift widening in Bihar, Congress today virtually ruled out a tie-up with Chief Minister Nitish Kumar if the alliance breaks, saying his "communal face" had been exposed.  Claiming that the NDA now existed only on paper, the party predicted that its remaining allies will desert it one by one due to BJP's communal agenda. 
"NDA as an alliance has ceased to exist. It may exist on paper, but on ground level it is almost finished. The rap that Nitish Kumar had given to BJP clearly shows the alliance is over. It's only a matter of time when its remaining allies also leave it and start looking for other alternatives," party spokesperson Manish Tewari told reporters at the AICC briefing.
Asked whether Congress is open to an alliance with JD(U) if it splits with BJP, Tewari said that a senior party leader has already replied on it. AICC general secretary in-charge for Bihar Mukul Wasnik had said that the party will go solo in Bihar assembly elections. 
"(Nitish) Kumar's real communal face has been exposed during the national executive meeting of the BJP," Wasnik said today addressing party workers in Kishanganj, Bihar.  He said Nitish's efforts to woo minorities would come a cropper in the upcoming Assembly elections as people have realised that he was "trying to fool them".  
Tewari also said, "It's not that Bihar Chief Minister is completely recluse from the circle of questions. After all, he ran a government with the BJP for close to five years and he will have to answer for that."   He added that though it appears that there is a fight between BJP and JDU now, it remains to be seen whether the fight is a mock one. 
"Only time will tell that," he said.  Tewari said Nitish's act of returning Rs 5 crore of flood money to Gujarat was not justified "because it did not belong to any individual but was the hard earned money of the people of Gujarat."
He said the development that comes after another NDA ally Biju Janta Dal parted ways with BJP in Orissa last year clearly shows that the allies want to shrug off BJP.  Since people have rejected communalism, NDA's allies are now "scurrying for cover", the Congress spokesperson said. PTI