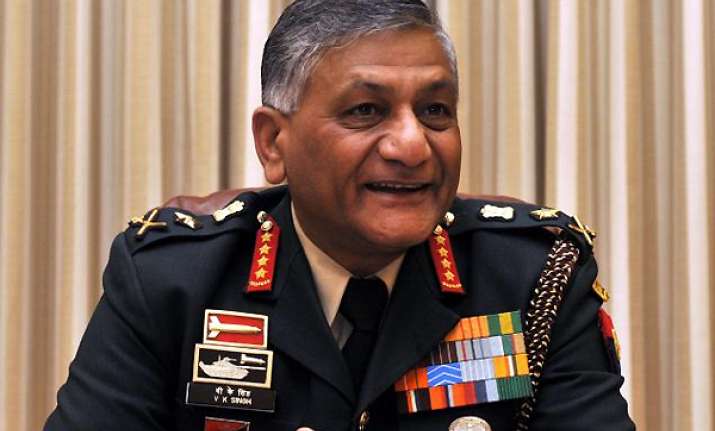 New Delhi, Apr 20: The Central Bureau of Investigation (CBI) today recorded the statement of Indian Army chief General V.K. Singh over his  allegation that a retired Army officer had tried to bribe him in 2010 to clear a tranche of sub-standard vehicles.
CBI sources said the general was questioned by the team, led by a deputy inspector general (DIG), for about two hours in Gen Singh's South Block office.
The CBI team spoke to Gen Singh for about two hours and sought clarifications regarding his allegation that he was offered Rs.14 crore bribe to clear sub-standard military equipment.
In his complaint submitted earlier to the CBI, the Army Chief had reportedly accused Vectra Group chief Ravi Rishi of attempting to bribe him and sending retired army official Lt General (retired) Tejinder Singh to offer it to him to clear a contract for acquiring trucks.
The CBI has reportedly registered a preliminary inquiry in the case.
The Army chief had claimed in media interviews that he had been offered the bribe of Rs 14 crore by a former army official and was so shocked when the offer was made that he didn't taken any action.
Defence Minister AK Antony had earlier told the Rajya Sabha that he had been informed about the bribe being offered but when he asked the Army chief to file a formal complaint he had not done it. A CBI probe was subsequently requested by the Ministry of Defence.
The Indian Army had issued a press release on 5 March alleging that Lt General (retired) Tejinder Singh had offered a bribe to the Army chief on behalf of the makers of the Tatra trucks used by the army.
The former army official has denied the allegations and filed a case of defamation against the Army chief and four other officials.
A court has reserved its order on whether to summon the senior army officials before it.