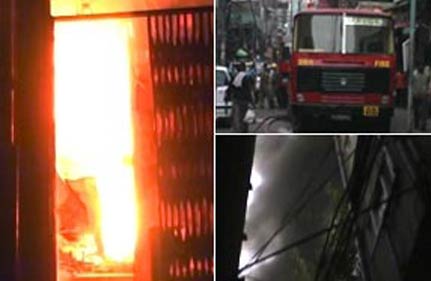 New Delhi, Nov 28 (PTI) A four-storeyed building went up in flames and a portion of it collapsed in central Delhi today after plastic stored in its ground floor caught fire following suspected short-circuit injuring four persons.
Four persons, including three firemen, suffered injuries when a portion of the building collapsed following the blaze that was reported from the building located in Maliwada locality of Nayi Sadak near Chawri Bazar at around 5 pm, fire brigade officials said.
Two mysterious explosions were also heard from inside the building.
The building collapsed around 9:15 pm and the injured firemen were taken to a nearby hospital.
The multi-storeyed building appeared like a hot blazing inferno with red flames and thick smokes billowing out of the structure.
"The raging fire led to the collapse of a portion of the building. Fire which broke out in the ground floor spread to the other floors and within no time, it was all over the building," the officials said.
Twenty-seven fire tenders were rushed to the spot to douse the fire, the officials said adding the narrow lanes were an impediment for fire fighters to reach the spot and initiate the exercise.
Soon after the incident was reported, the officials said, power supply to the area was snapped while people residing in the adjoining buildings were evacuated as a precaution.
"The building houses a godown of plastic. The approach to the building was very narrow. We had to park the fire tenders around 500 metres in the main road and then take the hoses to the building," the officials said.
Interestingly, at least on ten spots, the hoses were leaking and a large quantity of water did not reach the building.
"A lot of water were lost. A large amount of water were not carried to the spot because of this leakage," the locals claimed.