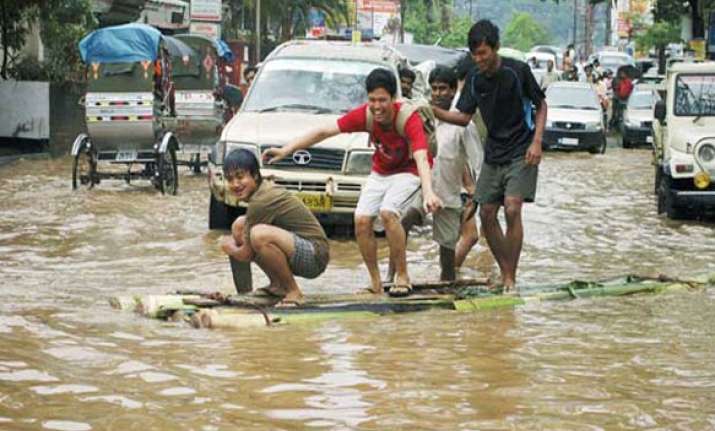 Lakhimpur, Assam, July 17: Heavy rainfall in Arunachal Pradesh and Assam for the last two days has affected life in Sonitpur, Lakhimpur and Dhemaji districts of Assam submerging villages and hitting a population of over 1.50 lakh.  

Rain-fed river Brahmaputra, its tributaries and other rivers flowing down from the upper reaches of Arunachal were causing the first wave of floods in Assam submerging 105 villages in Lakhimpur district affecting 1.25 lakh people,

While the rising Humdiri river in Lakhimpur had overrun 15 new villages under Lakhimpur revenue circle overnight, the swollen Subansiri flowing down from the neighbouring state was rising menacingly breaching an agricultural embankment.

At least 20000 hectare of agricultural land had been covered by the flood waters damaging standing crops there,

Four persons drowned on Friday when the Ranganadi embankment breached at Kharkati under Lakhimpur revenue circle.

In neighbouring Dhemaji district the deluge caused by the swollen Jiadhol river affected Kechukhana, Ghuguha, Lowmuri, Naruathan and other areas affecting 25000 people,

The surging waters overtopping the National Highway 52 connecting Lakhimpur and Dhemaji districts with Arunachal closing traffic yesterday has, however, ebbed and movement of vehicles was restored on Saturday.

In Sonitpur district, the flood waters of Brahmaputra's tributary Jiabhorali breached a major embankment at Gotaimari, submerging three villages and rendering 25 families homeless on Saturday.

Chatrang river overran Ward number four areas of Gohpur town inundating most of its low lying areas and of Brahmajan and Kalabari areas.

The Jiabhorali and Depota rivers were rising alarmingly and may cross their danger levels soon unless the heavy rainfall ceased.

Meanwhile, the district administrations were on high alert and providing relief in the affected areas, with Kaziranga national park being flooded by river water.