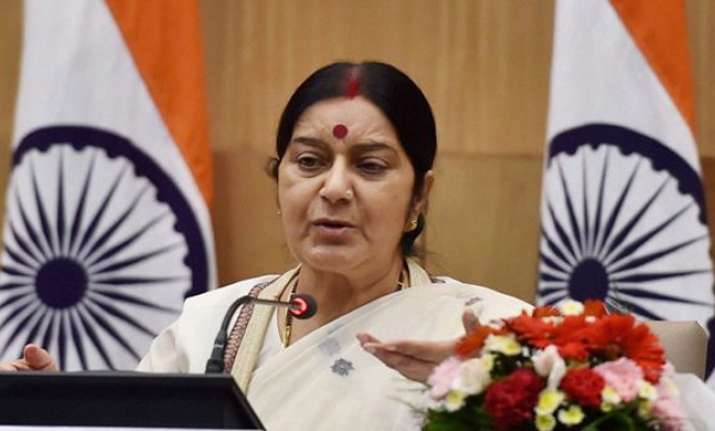 Union minister for External Affairs Sushma Swaraj on Monday came down hard on Sartaj Aziz, Pakistan's Foreign Affairs Adviser to Prime Minister, saying the latter didn't even have the courtesy to acknowledge her letter requesting a visa for the mother of Kulbhushan Jadhav, an Indian national currently on death row in Pakistan on charges of espionage and subversive activities. Swaraj, however, pointed out that India would not respond in a similar manner to Pakistanis seeking medical visas to India, provided they have a recommendation letter from Aziz.
In a series of tweets today, Swaraj sought to clear the air over reports in the Pakistani media suggesting that India had denied medical visas to people from the neighbouring country. One such case that the Pakistani media highlighted was that of 25-year-old Faiza Tanveer, who is suffering from aggressive tumour in her mouth. According to reports, she claimed to have applied for a medical visa to India but her request was rejected, allegedly on grounds of "deteriorating ties".
However, Swaraj today clarified that India is happy to grant medical visas and hoped Aziz "has consideration for the nationals of his country" too. "I have my sympathies for all Pakistan nationals seeking medical visa for their treatment in India. I am sure Mr. Sartaj Aziz also has consideration for the nationals of his country. All that we require is his recommendation for the grant of medical visa to Pakistan nationals." The statement by Swaraj is in line with the new rules that stipulate a letter of recommendation from Sartaj Aziz for grant of medical visa to India.
"I see no reason why should he hesitate to give his recommendation for nationals of his own country," she said.
Swaraj then brought up the issue of visa request for Kulbhushan Jadhav's mother and how Aziz had even refused to acknowledge a personal letter she had sent to him urging the grant of visa. "We also have a visa application pending for an Indian national Mrs. Avantika Jadhav who wants to meet her son in Pakistan against whom they have pronounced a death sentence.
"I wrote a personal letter to Mr. Sartaj Aziz for the grant of her visa to Pakistan. However, Mr. Aziz has not shown the courtesy even to acknowledge my letter," Swaraj wrote.
Several requests to Pakistan by India for consular access to Jadhav have fallen on deaf ears. The former Navy man was arrested by Pakistan in 2016 on charges of spying before a military court sentenced him to death earlier this year. India has moved the International Court of Justice, which on May 18 restrained Pakistan from executing the death sentence.