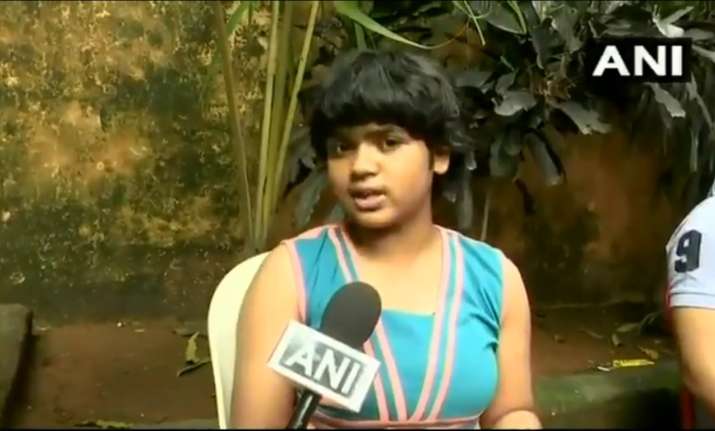 After a fire broke out in a Mumbai highrise this morning, ten-year-old Zen Sadavarte showed her presence of mind by employing safety tips she had learnt at school to ensure that her family and neighbours remained safe.
Zen stays with her parents and a brother on the 16th floor in the 17-storey Crystal Tower building at Parel in central Mumbai.
A student of Class VI of Don Bosco School in suburban Matunga, Zen recalled and put to use the fire safety tips she had learnt during a school project in Class III, which ensured her family and others remained safe until the fire brigade personnel arrived.
The blaze, which broke out on the 12th floor of the posh residential building, killed four people and injured at least 16 others.
Zen said she was sleeping when her parents, who spotted smoke and woke her up. "Since it was a holiday today on account of Eid, I slept a bit longer. My parents woke me up and when they opened the kitchen window, the entire flat was filled with smoke. My neighbours and a few others had gathered by the time," she said.
"I saw everybody on the floor was panicked, frustrated and disturbed due to the fire... All of us went to our neighbouring flat in search of safe place, where I asked them to be calm and not to get disturbed," Zen told PTI.
"With the help of cotton, water and cloth pieces we made purifiers and handed them over to all the people in the flat," Zen added.
"I asked everyone to keep the purifiers on their mouth. This stopped them from suffocating due to smoke and they were able to breath well, preventing inhalation of carbon dioxide," she said.
When a cotton piece is soaked in water, you can breath almost normally as carbon molecules are separated by the water. Besides, she also advised them to wash their head so that they do not panick, Zen said.
"It was a time of panic... I told my neighbours to shut the power supply, stay calm and breath easy," she said.
"I also asked them to sit down and find a safe place. We all tried this for a few minutes. After some time, the fire brigade personnel arrived and all of us were rescued," she said.
"I learnt all this during a project when my teacher Snehal ma'am taught me lessons of dos and don'ts in a project of disaster management during fire. I am happy that whatever I learnt in a school project was useful in saving many lives," she said.
Her father, advocate Gunaratna Sadavarte, said he was proud of his daughter as she played an important role in saving the lives.
"She used ancient technique, which she learnt in a school project and I am thankful to her teachers," he said.
Zen said, "I won't exactly say that I saved their lives, I just advised them what to do. Around 16-17 people did this and then we all were saved by the fire brigade cranes."
Praising Zen for her bravery and ability to hold her nerve, one of her neighbours said, "We are thankful to her as
she came to our rescue before the fire brigade personnel arrived to rescue us."
"We were panicked. We followed her advise otherwise anything could have happened," he said. 
Zen Gunratan Sadavarte, a 10-year-old girl helped in evacuation operation during the fire that broke out in Mumbai's Crystal Tower, today, says. 'I convinced people to put wet cloth on their face so that they do not suffocate. I had done a research on this.' #Maharashtra pic.twitter.com/9Gk7vgDao2

— ANI (@ANI) August 22, 2018