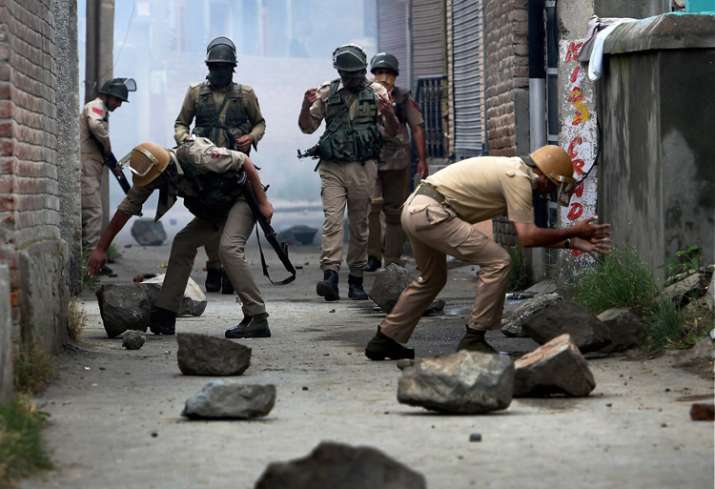 Hizbul Mujahideen militant Sajid Ahmad Gilkar, who was killed in an encounter in Budgam district of Jammu and Kashmir today, had played a key role in the lynching of DSP Mohammad Ayub Pandith last month, police said. Pandith was stripped and stoned to death by a mob outside the historic Jamia Masjid in Nowhatta area of downtown Srinagar on June 22. 
"Gilkar played a key role in the lynching of DSP Mohammad Ayub Pandith of the security wing," a police spokesman said today. Gilkar went underground and joined the Hizbul Mujahideen after the lynching incident, he said. 
"He was also involved in grenade attacks on the CRPF at Nowhatta on April 22, Khanyar police party on April 30 and SafaKadal CRPF camp on June 21," the spokesman said. 
He said the slain militant was also involved in attacks on PDP worker Abdul Qayoom in Barzulla on May 24 and an army convoy near SKIMS Bemina April 1. 
Gilkar and his associates Aaqib Gul and Javaid Ahmad Shiekh were killed in an overnight gunbattle with security forces in Redbugh area of Budgam district this morning. 
"They (slain militants) were involved in recent weapon snatching incidents in the south and central Kashmir. They were also involved in anti-national activities, unlawful activities, damaging of government property and stone pelting incidents," the spokesman said. 
Other militants were identified as Aaqib Gul and Javaid Ahmad Shiekh.
Clashes rock Srinagar during militants' funeral
Clashes rocked Srinagar today during the funeral procession of the militants. Several persons including a photo-journalist were injured in the clashes between protesters and law enforcing agencies in the Nowhatta area in downtown Srinagar. 
When the body of Sajid Ahmad Gilkar was handed over to his family for last rites at Malaratta, hundreds of people defied restrictions and took part in his funeral procession, officials said. 
They said the mourners attempted to offer 'Namaz-e- Janazah' (prayer before burial) at the Jamia Masjid, but were prevented by police which lead to clashes. 
The photo-journalist with a local daily was on duty when he received pellet injuries in head and arms. 
Later, the prayer for the slain militant was offered at a nearby stadium. Gilkar was buried at his ancestral graveyard in the locality, the officials said. 
The clashes continued quite long, even as police used pellet guns and fired dozens of teargas shells to restore order, the officials said.
(With PTI inputs)