Follow us on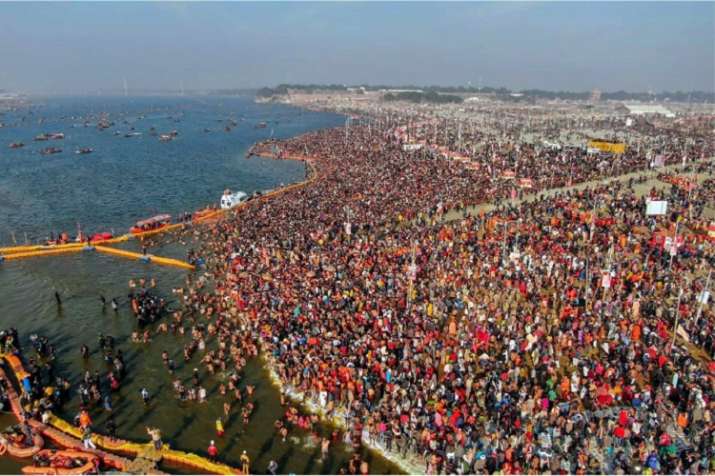 Over 1.4 crore people chanting 'Har Har Gange' took a dip in the holy waters of Sangam to mark the begining of Kumbh Mela, touted as world's biggest religious festival.
People from lands near and far braved the cold weather to take a dip in the icy waters, reaching the makeshift township of Kumbh Nagari, touted to be the world's biggest temporary city, as early as 4 am. 
Sadhus of 13 akharas (seven Shaiva, three Vaishnava, two Udasina, and one Sikh) who have traditionally participated in the Kumbh Mela were the first to take the holy bath.
They marched in a procession, dancing and singing devotional songs, all the way to the waters. Each akhara, the term for an organisation of sadhus, was allocated 45 minutes to participate in the ritual bath by the Kumbh administration. 
The order in which the holy dip is performed by various akharas is pre-determined. It started with Mahanirvani along with the Atal akhara, the Niranjani along with the Ananada Akhara, and the Juna along with the Avahana and Agni akharas.
They were followed by the Nirvani akhara, Digambara akhara, Nirmohi akhara, Bada Udasin akhara, Naya Udasin akhara and last, the lone Sikh Nirmal akhara.
Attracting eyeballs of one and all, especially foreigners, was the march of the Naga sadhus, a martial order of ascetics who roam naked with ash smeared on their bodies.
"It is surreal. I had always heard about them. In fact, one of the reasons we wanted to come to the Kumbh was to see them in real as we are told that this is the only festival in which they arrive in numbers," said Manuel Matthaus, who had come from Germany.
"Yes, I did plan to take the bath. But I guess the water now is too freezing for my liking. Maybe later," as his girlfriend captured the spectacle on her camera.
More than 12 crore people are expected to visit the Kumbh between now and Maha Shivratri on March 4.
It is traditionally called 'Ardh Kumbh' as it takes place twice in 12 years. But the present Uttar Pradesh government recently renamed it 'Kumbh'.
The Uttar Pradesh government has allocated Rs 4,200 crore for the Kumbh Mela, which is more than thrice the budget of the Maha Kumbh in 2013, making the mega pilgrimage perhaps the costliest ever.
Meanwhile, Uttar Pradesh Chief Minister Yogi Adityanath on  Tuesday said 2.25 crore devotees attended the first 'shahi snan' of Kumbh in Prayagraj on Makar Sankranti.
"About 2.25 crore persons attended the first 'shahi snan' in Prayagraj which is a record. I thank all the visitors, religious leaders, common man and officials for the smooth conduct of the mega event," the CM said in a statement issued here on Tuesday.
He said the state government was committed to providing best facilities in the ongoing 'Kumbh' festivities.
Watch full coverage of the new son India TV's special show Aaj ki Baat with Rajat Sharma: