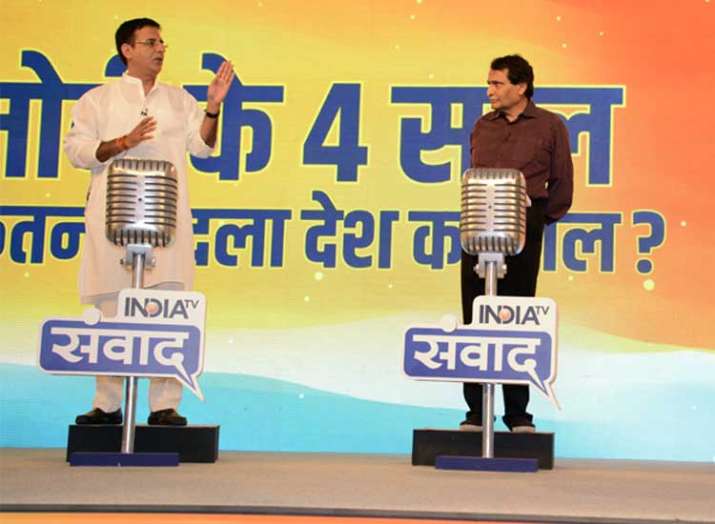 Union Minister of Commerce and Industry Suresh Prabhu on Saturday said that the Narendra Modi government does not make policies keeping in mind elections only.
Participating in India TV's mega conclave "Samvaad", Prabhu said that the Modi government frames policies for the betterment of the country.
The union minister claimed that the Modi government has changed a lot of things in the country in  its four-year rule.
Prabhu  pointed out that earlier there was no foreign investment in the country which is no longer the case.  He also claimed that inflation was at a higher level before the Modi government took over the reins of power.
Countering Sures Prabhu's claims, Congress leader Randeep Singh Surjewala claimed that no foreign investment has come under Modi regime.
He also pointed out that the Modi government hiked excised duty on petrol 11 times in last 4 years.
Replying to a question on the ongoing power-struggle in Karnataka, Prabhu said that the Congress extended support to Kumaraswamy-led JD(S) just to prevent the BJP from Coming to power in the state.
Surjewala, on the other hand, alleged that the Karnataka Governor violated constitution by inviting Yeddyurappa to take oath as the new chief minister of the state.
On Modi government's performance in last 4 years, Suresh Prabhu said that the government has fulfilled many promises in this period and the remaining promises will  be fulfilled in the remaining one year.
Surjewala, however, rubbished Prabhu's claims and wondered what happened to PM Modi's promise of depositing Rs 15 lakh each in every person's account.
"Where is the achhe din," Surjewala asked. 
" People are now saying that achhe din are coming and Modi government is going," Surjewala sarcastically remarked.
Watch video: India TV Samvaad with Union Minister Suresh Prabhu and Randeep Surjewala
​