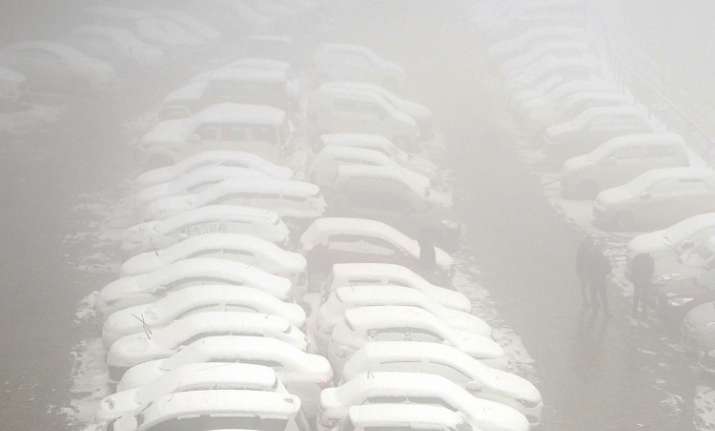 Icy winds swept across Himachal Pradesh with temperatures remaining below the freezing point in most places, a weather official said. Keylong was the coldest in the state at a low of minus 17 degree Celsius. "It was cloudy after a day of sunshine in the state. There was no rain or snow in the state in the past 24 hours," an India Meteorological Department (IMD) official said.
The minimum temperature was minus 0.2 degree in Shimla, which last saw snow on Friday.
Snow could be seen in certain areas of Shimla like the Mall Road, the Ridge, the US Club and Jakhu hills.
Areas near Shimla like Kufri and Narkanda and popular tourist resorts of Manali and Dalhousie are also covered under a thick blanket of snow.
Kalpa in Kinnaur district saw a low of minus 5.2 degree, while the minimum temperature was minus five degree in Manali, minus 4.2 degree in Kufri, minus 1.5 degree in Dalhousie, 0.5 degrees in Palampur and 0.6 degrees Celsius in Dharamsala.
The Met Office said the western disturbance would be active in the region from January 29 onwards, bringing more snow and rain.
Similar weather conditions were witnessed in Jammu and Kashmir's Ladakh region, as Drass recorded a minimum temperature of minus 28.7 degrees Celsius, making it the coldest in the state, the weather office said.
Even the maximum temperature temperature in Drass did not rise above the freezing point on Saturday, as it settled at minus 10.1 degrees Celsius.
According to the Met Department, "Minimum temperatures will drop further in the state with the weather likely to remain dry during the next three days."
On Sunday, the minimum temperature in Srinagar was recorded at minus 1.4 degrees Celsius, while it was minus 13.0 in Pahalgam and minus 12.0 in Gulmarg.
Leh town recorded minus 15.5 degrees Celsius and Kargil minus 20.7 as the night's lowest temperatures.
Jammu city recorded 4.1 degrees Celsius, Katra town 3.8, Batote minus 2.7, Bannihal minus 2.5 and Bhaderwah minus 3.4 as the minimum temperatures.