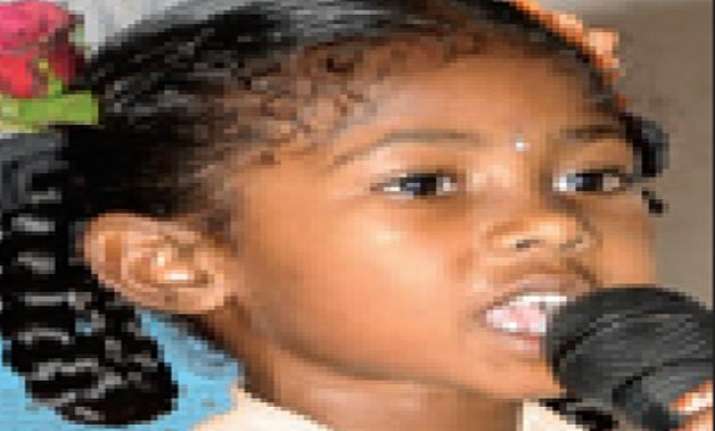 Tiruvannamali: The seven-year-old  girl Preethi, from Tiruvannamalai district,was selected by the Election Commission to promote awareness on voting for the May 16 assembly election in Tamil Nadu.
According to Times of India report, the girl is from Vilanallur Panchayat Union Middle School and can list out the names of  all the 234 constituencies in the state in less than five minutes.  
She was designated the Election Commission ambassador for Cheyyar constituency, reported TOI. 
"We are encouraging such young talents by giving incentives and recognition. We have 1,200 officially designated college campus ambassadors, students selected to encourage their classmates to get enrolled in the voters' list," chief election officer Rajesh Lakhani told TOI. 
Many popular faces including actors Karthi and Suriya, cricketers Ravichandran Ashwin, Dinesh Karthik, and squash champion Dipika Pallikal, to spread awareness among young voters have been binded by EC. 
"We have planned two election awareness videos themed `Know Your constituency' with the child (Preethi). The videos will be filmed in Chennai on Saturday and uploaded on social media and YouTube within two days," said Cheyyar subcollector Dr T Prabhu Shankar, returning officer of the constituency .
At the `Vaarungal Vakkalippom' programme at Arignar Anna Government Arts College Preethi was the cynosure of all eyes as she listed all the the names of all the seats correctly in just few minutes. After that she stepped down saying " Anna and Akka (brothers and sisters), all of you please vote."
She will soon begin shooting for promotional short films on voters' awareness.
The sub-collector gave away a cash award of `2,100 to the girl.She will also  begin shooting for promotional short films on voters' awareness.
Even Prabhu spotted her talent during her school's annual day on March 4, where he was the chief guest. He said "I wanted to tap her talent and create a positive impact among voters."
Preethi, daughter of a farm worker said, she was very excited to list out the names of the constituencies in front of a large gathering. "My teacher Roosia taught me everything."  
Her mother Lalitha added,"I was out of words when I heard that my daughter was appreciated by the officials and made the election ambassador."
Panchayat president J Venkatesan and headmaster N Palani on Preethi's achievement said, we are very proud of her.Venkatesan hoped Preethi would inspire the village, which has around 1,700 voters, to achieve 100% voting.
"I got the list of constituencies in a WhatsApp group. I decided to teach it to Preethi and wanted her to recite it in the annual day programme. She memorised the constituencies' names within 10 days," said her teacher Roosia.