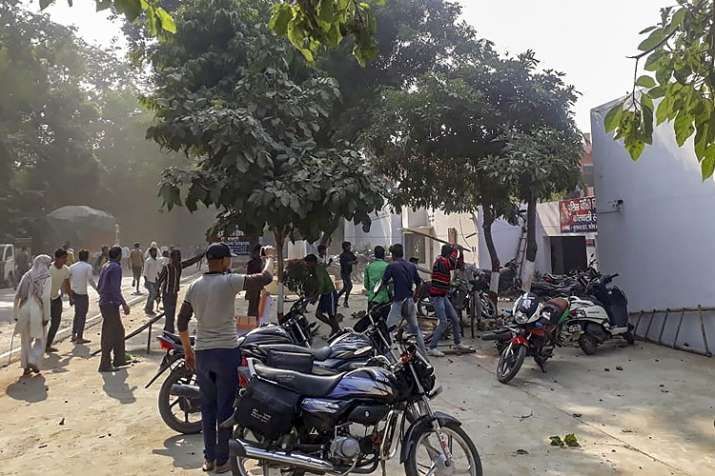 Army man Jeetu Fauji who allegedly shot at Inspector Subodh Singh during the mob violence in Bulandshahr has been arrested. The arrest was made after a video purportedly showing Jeetu Fauji firing at Subhodh Singh emerged on various media platforms.
Fauji is said to be working with the Border Security Force (BSF) and is posted in the Kargil sector. 
Earlier on Friday, five more people were arrested for their alleged involvement in the mob violence.
With the latest arrests, the total number of people arrested so far has gone up to nine. However, the main accused Yogesh Raj is still on the run.
Inspector General (Crime) SK Bhagat said five persons have been arrested on the basis of video footage and an identification done by local residents. 
Bhagat said the five people, who were arrested, were identified as Chandra, Rohit, Sonu, Nitin, and Jitendra. 
Meanwhile, ADG (Intelligence) S.B. Shiradkar, who was sent to Bulandshahr specially by Chief Minister Yogi Adityanath in the aftermath of the violence, submitted his report to DGP O.P. Singh on Friday. 
The report is likely to be submitted to Uttar Pradesh Chief Minister Yogi Adityanath when he comes back to Lucknow from New Delhi on Saturday.
Meanwhile, the Uttar Pradesh government on Saturday transferred Bulandshahr Senior Superintendent of Police Krishna Bahadur Singh and attached him to the office of the Director General of Police, a Home Department official said.
The state government has named Prabhakar Chowdhary as the new district police chief of Bulandshahr.
Two more police officials have also been transferred in connection with the mob violence in Bulandshahr town on Monday where an inspector and a civilian were killed, authorities said.
Circle Officer (CO) Satya Prakash Sharma and Suresh Kumar, the in-charge of Chingravathi police chowki, have been transferred "for their failure in responding in time to the situation arising on Monday in that area".
The decision was taken on the basis of a report submitted by the Additional Director General of Police S.B. Shiradkar. 
The senior Home Department official said they have been taken to task for not being fast enough in reacting to the situation that arose after some Hindu right-wing activists found some animal carcasses in a field and took them on tractor-trolleys to block a road.
Meanwhile, Adityanath has termed the Bulandshahr incident an "accident". 
He had earlier said the incident was result of a "big conspiracy" but at a media event in Delhi on Friday, he said that the incident was actually an accident.
"No mob lynching happened in Uttar Pradesh, what happened in Bulandshahr is an accident", he said.
Two people including police inspector Subodh Kumar Singh who had probed the Akhlaq lynching and a 20-year-old man Sumit died of gunshot wounds when a mob went on rampage over alleged cow slaughter on Monday.
WATCH VIDEO: