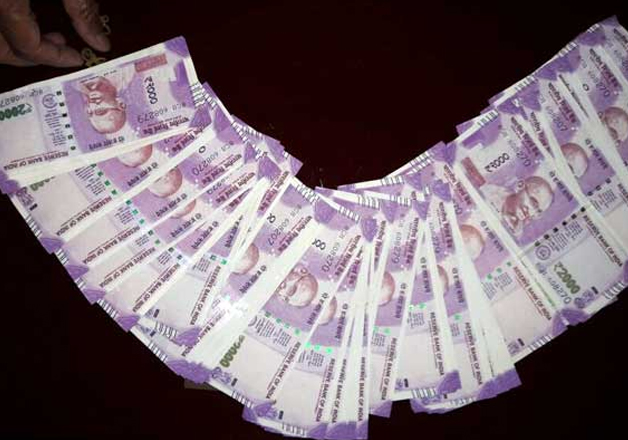 Pakistan is desperately making all efforts to pump fake notes in India. A day after the Border Security Force (BSF) and the NIA seized 40 fake Rs 2,000 notes from Malda district of West Bengal, a patrolling party of the central armed force has made first seizure of 'large' consignment of fake notes from the same district.
According to reports, the BSF on Wednesday seized 100 fake Rs 2,000 notes along the India-Bangladesh border in West Bengal. 
Officials said that BSF a search party laid a trap at about 2 am in a mango orchard in the Churiantpur area and found a packet containing 100 Fake Indian Currency Notes (FICNs) of the face value of Rs 2,000, which were minted by the government post the scrapping of old Rs 500 and Rs 1,000 currency notes last year. 
The BSF personnel challenged a suspected smuggler on the Indian side, who was set to receive the bundle from the Bangladeshi side, but he managed to escape taking advantage of the darkness and thick growth in the orchard.
"The packet, flung from across the border, landed in the orchard and it was recovered by the BSF team. The notes were neatly packed in a polythene bag. This is the biggest seizure of fake new currency post demonetisation at this frontier," officials said. 
There have been seizures of one or two fake Rs 2,000 notes post the currency ban, but the quality of those was poor and they were possibly smuggled in to test the acceptability, they added. 
The quality of the seized fake notes was found to be 'good' as a preliminary examination detected that eight-nine features, out of a total of 17, were copied even as the paper quality was found to be not 'too good', they further said. 
The latest seizure was made on the basis of a tip-off from an FICN smuggler who was arrested on Tuesday. The BSF and the NIA, in a joint operation, arrested Umar Faruk (21) alias Firoz from the Golapganj area of Kaliachak in Malda  and three fake currency notes of Rs 2,000 face value were seized from his possession. 
Firoz, a resident of Mohanpur village in Malda, was absconding in a case registered by the NIA involving a seizure of fake currency of Rs 5.94 lakh face value. 
The Kaliachak and Malda areas of West Bengal along the Indo-Bangla border are notorious for FICN smuggling and in 2016, BSF's South Bengal Frontier (comprising five border districts of West Bengal) seized fake currency of over Rs 1.47 crore face value and arrested 19 smugglers in this regard. 
On February 8, West Bengal Police had arrested a youth with 40 fake Rs 2,000 currency notes from Murshidabad district, which till now was the biggest such haul from the Indo-Bangla border region post demonetisation. 
Umar Faruk (21) alias Firoz was later remanded to 3-day transit demand by a SDJM court in Malda as prayed by NIA. A district police source said he was taken to Bihar.