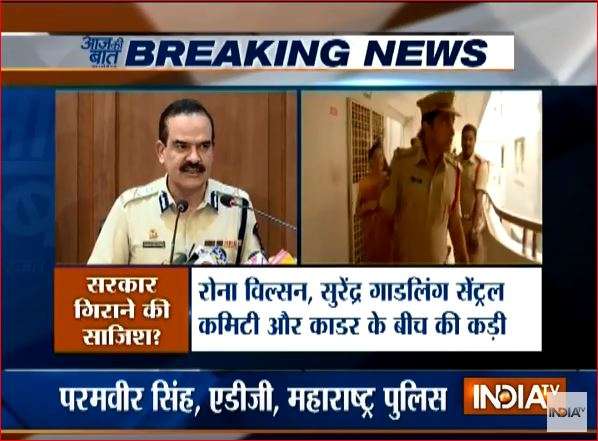 Justifying the arrest of five activists in connection with Bhima Koregaon violence, the Maharashtra Police on Friday claimed that they were all associated with Maoists who hatched the conspiracy for the violence that took place in January this year.
Talking to media persons, Maharashtra Police ADG Param Bir Singh said that there is clear evidence to establish the arrested person's connection with the Maoists.
The ADG further said that evidences suggest the CPI(Maoist) was conspiring to open an all-India front against the "established government".
Param Bir Singh added that the Maoists wanted to overthrow the "established government" using its overground cadres by creating chaos and disturbing law and order.
Singh further said that the Maharashtra Police is seeking custody of these people for further investigation in this case.
The ADG said that a case was registered on 8th January about an incident of 31 Dec 2017 where hate speeches were delivered at Elgar Parishad which was attended by around 4000 people.
In course of investigation, the names of Surendra Gadling and Rona Wilson appeared after which raids were conducted at many places, he said.
Singh claimed that Bhima Koregaon violence was a big conspiracy hatched by the Maoists.
WATCH: Maharashtra Police briefing on Bhima Koregaon violence case https://t.co/kavuKpwQFF

— ANI (@ANI) August 31, 2018
He further said that the police have recovered emails and meeting minutes of Maoists according to which the Maoist Central Committee used to spread its messages through Surendra and Rona.
The ADG referred to a letter purportedly written to Gautam Naulakha by central committee's Surendra in which he claimed that their forces were suffering damages.
Referring to the weapons recovered during the raids, the ADG said that their design and construction is of Chinese and Russian origin.
"Investigation revealed that a big controversy was being plotted by Maoist organisations. The accused were helping them to take their goals forward. A terrorist organisation was also involved. On 17 May, sections under Unlawful Activities(Prevention) Act were imposed," Singh said.
"When we were confident that clear links have been established then only we moved to take action against these people, in different cities. Evidence clearly establishes their roles with Maoists," he added.
Watch: Maoists were conspiring to overthrow 'established govt', says Maharashtra police
The ADG also disclosed  that almost all the accused were associated with Kabir Kala Manch. 
The Supreme Court on Wednesday ruled against sending the five accused to jail and asked the Maharashtra police to place them under house arrest. 
 
The apex court ruled that the five arrested activists- Varavara Rao, Vernon Gonzalves, Arun Ferreira, Sudha Bharadwaj and Gautam Navlakha- will not be sent to jail but be kept under house arrest until September 6.
 
All these activists were arrested after a pan India crackdown was launched against them on Tuesday.