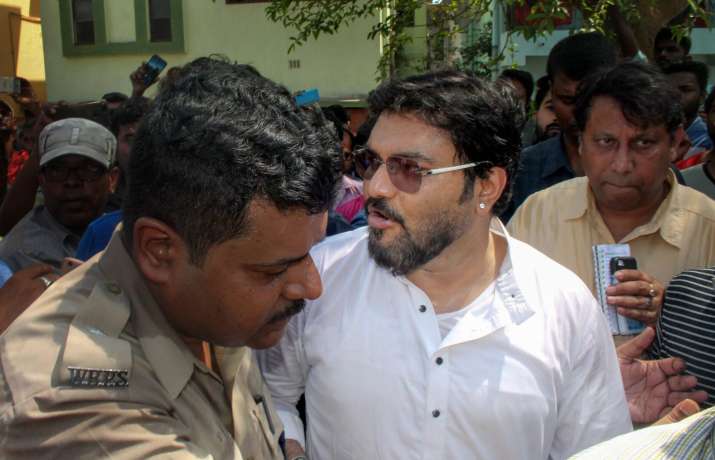 Union minister Babul Supriyo and a senior West Bengal BJP leader were today stopped by police from entering the Asansol-Raniganj area, which has been on the boil since Sunday, over clashes following a Ram Navami rally. 
Supriyo claimed that two FIRs were lodged against him after which he also filed a complaint against the police. However, there was no confirmation from the police whether such FIRs were lodged or not. 
State BJP Mahila Morcha president Locket Chatterjee was also barred from visiting the affected areas today as the situation continued to remain tense there. 
Internet services remained suspended and prohibitory orders under Section 144 of the CrPC were clamped in the area, following clashes between two groups on Sunday and Monday over a Ram Navami rally at Raniganj, the police said. 
However, no fresh incident of violence was reported from the area since last night, the police said, adding that the situation was "under control". 
Chief Minister Mamata Banerjee today held a high-level meeting at the secretariat after her return from Delhi. Chief secretary, home secretary, DGP and ADGP (law and order) were present at the meeting. 
Banerjee did not comment on the situation at Asansol-Raniganj.
 
Speaking to TV channel ABP Ananda, Supriyo claimed he had learnt that two first information reports (FIR) were lodged against him after he had tried to enter the Asansol-Raniganj area, which led to a heated verbal exchange between him and the cops. 
Supriyo, the MP from Asansol, tried to enter the Railpar area in Paschim Bardhaman district, where police stopped his car, citing security reasons. 
A group of people shouted slogans against the minister and demanded that he immediately leave the area. 
TV channels showed him engaged in a verbal spat with police personnel, who had surrounded his vehicle. 
"As a public representative, I have every right to visit my constituency, especially when people are in trouble. It is my duty. But the police is saying I won't be allowed to go as Section 144 is imposed in the area. Being a minister, I cannot violate rules," Supriyo said. 
He said he would inform Prime Minister Narendra Modi and Home Minister Rajnath Singh about the incident. 
Supriyo claimed that only the deployment of central forces could bring back peace to the area as locals did not have faith in the police. 
The minister, earlier this week, had blamed inaction on part of the police for Sunday's violence over Ram Navami celebrations in Raniganj, neighbouring Asansol. 
When asked, the police did not immediately confirm if complaints were lodged against the Union minister. 
Locket Chatterjee, who was en route to Raniganj, was also stopped by police at Durgapur. In protest, the actress-turned-politician staged a sit-in. 
State Parliamentary Affairs Minister Partha Chatterjee alleged that the BJP was trying to destroy communal peace and harmony in the state. 
"When the police is patrolling the area, why do they want to visit Raniganj? Are they not satisfied after unleashing violence for the last two days," he claimed. 
Chatterjee, also the TMC secretary general, claimed that Supriyo was seen pushing the on-duty police officers. 
S N Gupta, a senior police officer, said the situation was under control. He, however, advised the people not to pay heed to rumours and stay indoors. 
In all, 60 people were detained in connection with the violence, he said. 
A district police officer said a contingent of the police and the Rapid Action Force (RAF) were patrolling the area.
 
"There have been no fresh incidents of violence, although Section 144 is still imposed in the area," he said, adding, the situation was still tense. 
One person was killed and two police officers were injured in the violence that erupted on Sunday and Monday. 
Senior IPS officers Jawed Shamim, Siddhinath Gupta and Vineet Goyal have been deputed on special duty to bring the situation under control. 
Governor K N Tripathi has also been advised not to visit Durgapur to see a police officer injured in the violence in Raniganj in view of deployment of police in the area, an official release said yesterday. 
Watch video: