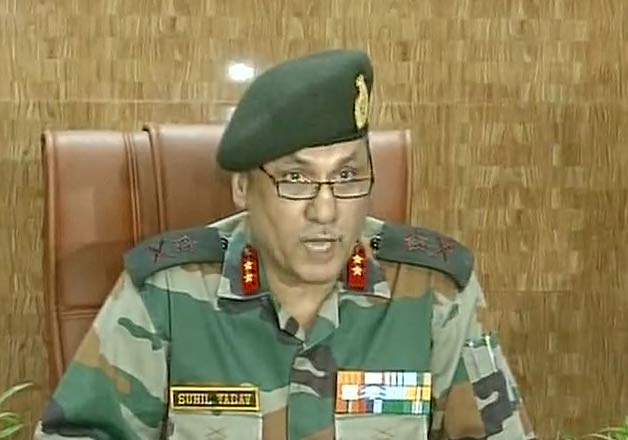 The Army today categorically dismissed charges made by West Bengal Chief Minister that the state government was not taken into confidence and rubbished reports that its personnel were collecting money at toll plazas.
Addressing a press conference in Kolkata today, Major General Sunil Yadav, General officer Eastern Command area today said that the Army had initially planned the data collection exercise for November 27 and 28 but later changed it to 30th on the request of Kolkata Police due to Bharat bandh.
He also showed as many as nine copy of letters given to all concerned departments in Bengal. The communications demolish Mamamta's claims that the government was never consulted on the exercise by the Army.
The letters dated 24 are addressed to RTO, Principal Secretary, Commissioner of Police in the state.
The Army has further said that it had communicated with Kolkata police on Nov 24. On November 26 and 27, the police and Army jointly identified places for exercises.
"Army formations in Eastern Command at local levels were carrying out routine annual data collection exercises on availability of load carriers at all major entry points in various states," he said.
"They're only collecting data of heavy vehicles,this is an annual exercise carried out every year in all NE states, incl Assam,Arunachal,WB,Manipur,Nagaland,Meghalaya,Tripura,Mizoram,Sikkim,"he added.
Yadav also rubbished reports that armymen were collecting money at toll plaza. 
 
"Allegations that Army personnel were collecting money at toll plazas is totally baseless," Yadav said.
Similar exercise also been carried out in Jharkhand, UP and Bihar from 26th September to 1st October this year, he said.
Defence Minister Manohar Parrikar today rubbished allegations made by TMC MPs saying it is the political frustration of WB's ruling party that keeps them from projecting the correct situation.
Speaking in Rajya Sabha, Parrikar today denied TMC charge that district authoritiess were not taken into confidence and added that  dates shifted at request of Kolkata Police.
He also said that it is unfortunate that army is being brought into unnecessary controversy.
Accusing the Centre of deploying the Army at toll plazas in West Bengal without informing the state government, Banerjee had refused to leave the office till the Armymen were withdrawn from the toll plaza at second Hooghly bridge. However, Banerjee did not leave the state secteriat even after Army withdrew from the toll plaza.
Speaking to reporters late last night at 'Nabanna', the state secretariat, she said, "I will stay at the secretariat to guard our democracy". 
"Is this a military coup," she asked. She said that Army personnel were there in different districts like Murshidabad, Jalpaiguri, Darjeeling, North 24 Paragans, Burdwan, Howrah, Hooghly etc. "The army is deployed without informing the state government. This is unprecedented and a very serious matter", she had said.