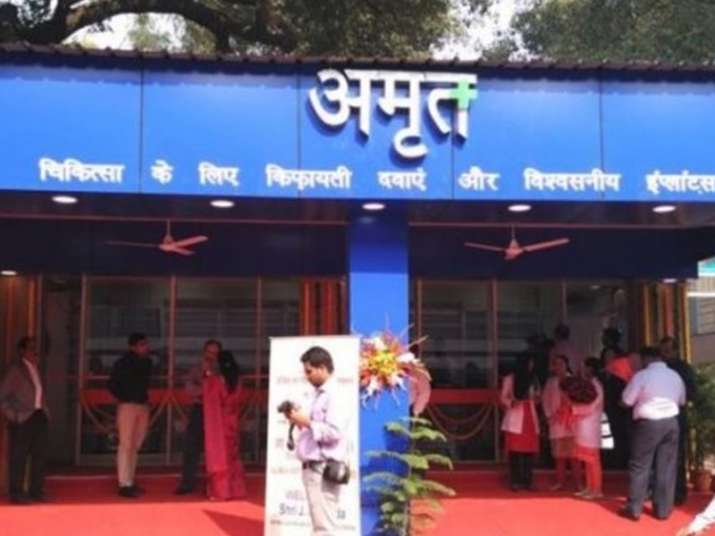 Affordable Medicines and Reliable Implants for Treatment (AMRIT), an initiative of the Narendra Modi government to provide affordable medicines have benefited more than 10 lakh people so far.
At Amrit medical stores, people can purchase medicines at a discount of up to 60 per cent. Also the quality of medicines available at these stores are far better than drugs that are sold at printed rates at private shops.
Till date, there are 83 Amrit stores across the country. The government is now planning to open more such stores in different parts of the country to sell drugs at discounted rates.
At Delhi's AIIMS, patients said that they are getting medicines at highly discounted rates. 
"I am diagnosed with cancer. I am getting almost 40 per cent discount here," Alpana, a cancer patient, told India TV.
"60 to 70 per cent discount…. also the quality of medicines here very good," another patient said.
At Bhopal's AIIMS, patients praised the government's initiative and said that they are satisfied with the services of AMRIT stores. Here, locals said that they are getting up to 80 per cent discount on medicines. 
At Chandigarh's PGI, Dipika, who runs the store, said that not only medicines, surgical equipment are also available here at discounted rates.
"On both medicines and surgical equipment, high discounts are available. On medicines 60 to 70 per cent and on surgical equipment we are offering up to 90 per cent discount. Earlier, a patient had to pay around Rs 2.50 lakh to Rs 3 lakh but now they are paying just Rs 1 lakh for the implants," she said.
AMRIT pharmacies are retail pharmacy stores where the government buys life-saving medicines in bulk to reduce the price for buyers.