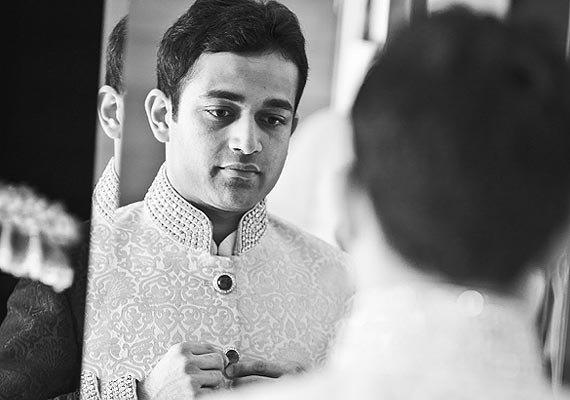 New Delhi: Indian grooms often are troubled with limited styling options for their different wedding ceremonies.
Now, as a groom one can dig into options to choose from. 
Jewellery is not just an accessory for the brides but also is emerging as an intricate part of styling for India grooms as well. Slowly and steadily, Indian grooms are getting inclined towards the idea of smartly teaming up jewellery with their wedding day attire. 
The modern-day groom is highly conscious about his looks, outfits and perfection is what that matters to him. Everyone these days is on a royal Mughal engagement theme spree. 
If you want to know about the latest trends doing rounds in the fashion arena then you can take a hint from Bollywood stars as well. When it comes to Indian grooms, traditional wear never lose its charm. The same is with jewellery. 
The traditional jewellery among men is appreciated as they dazzle like a royal on their d-day. 
Main image courtesy – Indianweddingphotograhy.com.au
The article is to give prospective Indian grooms ample of options to outstand differently amid the crowd on their wedding day, as they say 'why should girls have all the fun'. 
So, what are you waiting for, try these traditional jewellery for your wedding ceremonies and gather as much limelight and applause as your bride-to-be. 
Kalangi
-No turban is complete without the regal kalangi perched delicately in front of it.  You could take your regal look to a whole new level with one of these colourful jewels laid on a bed of ornate gold or silver.
 You could also opt for a feather kalangi, or for a very intricate one that has a coloured gem as well as an ornamental feather. 
Brooches
-Wedding sherwanis tend to be extremely ornate with a lot stone and embellishment work. If you prefer a much quieter style, or if you don't want to shell out a bomb for a very ornate sherwani, then accessories like brooches are the way to go.
Pick out a beautiful jewelled brooch to go with your simple sherwani for an understated yet extremely classy look. And, after your wedding, you can pair the same brooch up with other sherwanis or bandhgala jackets. These brooches are generally made in gold and silver and are encrusted with gemstones.
You could opt for pearl embellishments on your brooch like the maharajahs of old, or you could go for a more contemporary look with a platinum brooch.
 If you like to experiment with various looks and styles then try pairing up these brooches with western outfits to add a touch of ethnic grace to the modern style of your ensemble. 
Cuff-links
-Whether you are wearing a tuxedo, a sherwani or a semi-formal bandghala suit; accessories like cuff-links add those finishing touches that will truly complete your look.
While this classy accessory comes in various styles, you could opt for a special commemorative design for your wedding that will set them apart from the cuff-links that you would otherwise use.
While cuffs-links in pearl or gold go better with traditional Indian outfits, you could opt for silver or platinum cuff-links to wear with tuxedos and suits.