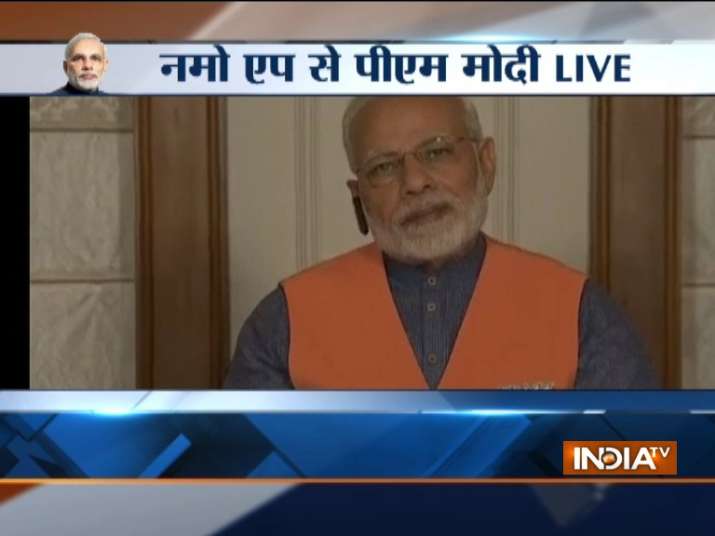 Hitting out at the Congress for spreading "rampant" lies, PM Modi on Thursday asked the Bharatiya Janata Party (BJP) workers not to fall into Opposition's trap of falsehoods. "Congress has resorted to rampant lying after a series of defeats in elections. Earlier, the Congress used to spread lies over five to 10 issues they raised. Now out of 50 issues, 40-45 are based on lies," the prime minister said in an interactive session with BJP candidates via the NaMo app.
The prime minister even accused the Congress of spreading lies by hiring foreign agencies and dividing societies on caste lines. He said political purity cannot come unless the Congress culture ends.
PM Modi said karyakartas must stand their ground, expose their lies and also fight their means of deceiving people by "hiring foreign agencies".
"If you analyse last few elections, you will realise how a few political parties have indulged only in dividing societies on religious lines. They give lollipops to a community before elections and then forget them," he added.
Modi said that this is the working style of the Congress in which they exploit emotions of some community before elections and forget them after the elections. "They will never give account of their works. They keep indulging in dividing the society. The political purity can not be established in the country till the Congress culture is finished from the mainstream," he added.
The prime minister said that other political parties hesitate to talk on development because development can be quantified.
"This was unacceptable to those parties which only concentrated on division. We govern and also fight elections based only on development model," he said.
Karnataka will go to polls on May 12 to elect its representatives for the 224-member Assembly. The results will be out on May 15.
PM MODI INTERACTED WITH KARNATAKA FACTION OF BJP: HERE ARE THE HIGHLIGHTS
09:34 am: Modi asks voters to elect a government with complete majority in Karnataka.
09:32 am: We are fighting elections only on the issue of development. There is one aspect on which they can never defeat us, that is our power as a party and the power of the party's youth force
Parties fear discussions on development as it is measurable. Development is not an issue for ones who do in caste-based politics, they give a lollipop of fake promises to particular community & then do same with another community in next elections: PM to #Karnataka BJP workers pic.twitter.com/OnaZKZSYRu

— ANI (@ANI) April 26, 2018
09:02 am: The prime minister during his interaction, will encourage the party workers engaged in the Assembly poll campaign in the state, and also provide guidance to senior party leaders, MPs, and MLAs.
Looking forward to interacting with all candidates, office bearers, elected representatives and Karyakartas of @BJP4Karnataka through the 'Narendra Modi Mobile App' at 9 AM. https://t.co/ZFxnxXvOF6

— Narendra Modi (@narendramodi) April 26, 2018
09:00 am: Modi will be travelling to Udupi on May 1, where he will be visiting Shri Krishna Mutt, and will later address a massive public rally.