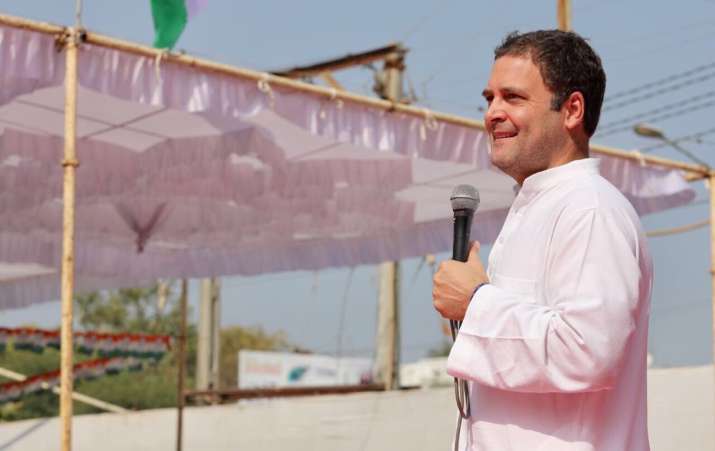 On the campaign trail in Gujarat, Congress vice president Rahul Gandhi today again credited his pet dog for his recently-found social media success and said that "it is Pidi who tweets" from his Twitter handle. 
Rahul Gandhi is today travelling from Banaskantha to Patan on the second day of the fourth leg of his 'Navsarjan Yatra' ahead of the assembly polls next month. 
"I said it is Pidi who tweets," Rahul said to cheers at a meeting with party's social media and IT volunteers in Ambaji in Banaskantha district. 
He then added that the tweets on political issues are his and routine posts like birthday wishes are handled by his social media team. 
"We reflect on ideas, there is a team of 3-4 people, to whom I give suggestions and after fine tuning them we tweet. Routine work, like birthday wishes isn't done by me, I give little inputs on it, tweets on political issues are mine," he said. 
Rahul began his three-day tour of north Gujarat on Saturday, and visited two of the most famous temples in the state- Ambaji temple and Akshardham temple. 
After his arrival this morning, Gandhi went straight to Akshardham temple in Gandhinagar, offered prayers to Lord Swaminarayan and launched his three-day tour of the region, which will cover six districts. 
Akshardham temple belongs to the Swaminarayan sect, that has a huge following among the Patel community, which the Congress is trying to woo ahead of the December 9 and 14 state polls. 
At night, Gandhi visited famous Goddess Amba temple at Ambaji in Banaskantha district of north Gujarat.
He added that the Congress party must not disrespect Prime Minister's position and should only spot faults of Narendra Modi and his party BJP. 
"Whatever we do, spot Modi's faults or disturb BJP, we won't disrespect the Prime Minister's position. When Modi ji was in opposition he used to speak with disrespect about the PM. That is the difference between us and them, no matter what Modi says about us we'll not go beyond certain point as he is PM," he was quoted as saying by ANI.