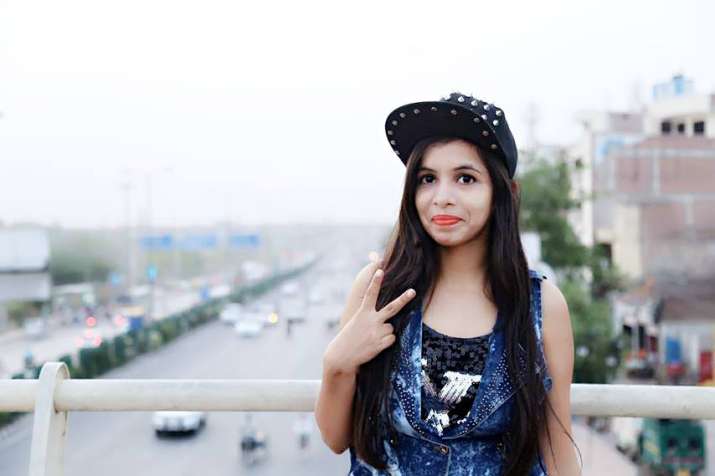 Dhinchak Pooja, the latest internet sensation, has released her new song Dilon Ka Shooter and it will definitely leave you in splits. The song is no way different from her previous songs Swag Vali Topi and Selfie Maine Leli Aaj. Dhinchak Pooja's songs will make you wonder, what made her so popular on social media. The video of this song doesn't have any fancy car. In fact, Dhinchak Pooja can be seen riding a red scooter and calling herself 'cuter' again and again.
Unlike her other videos, you can't spot her troupe in this latest track. Dilon Ka Shooter has received over 3 lakh views on YouTube in just a day. This song has again left people talking about it on social media. Internet is an interesting place which gives you multiple reasons to laugh.
Ever since she released her song, people started posting funny jokes and memes on social media. Some called it masterpiece for killing whereas some talked about her red scooter. Whatever you say, it is hard for people to ignore her.
If u try to breakup with ur BF, Just say to him,"My aim is just sing a song like #Dhinchakpooja " then he'll left u alone😂#DilonkaShooter

— Aadhira Banerjee (@AadhiraB) June 26, 2017
Hope she has a license to ride a 2 wheeler! Looks like she might jus fall off or ram into someone! 😂 #DilonKaShooter #Dhinchakpooja

— Aashray Akundi (@TheMadJoker89) June 26, 2017
What a masterpiece for killing @Dinchakpooja #DilonKaShooter

— Prajakta Bhawsar (@ViratsFangirl18) June 25, 2017
In her recent interview, the lady has stated that she wants to work in Bollywood. As she has some viral songs in her kitty, it is yet to be seen if Dhinchak Pooja gets opportunity to work in Bollywood.