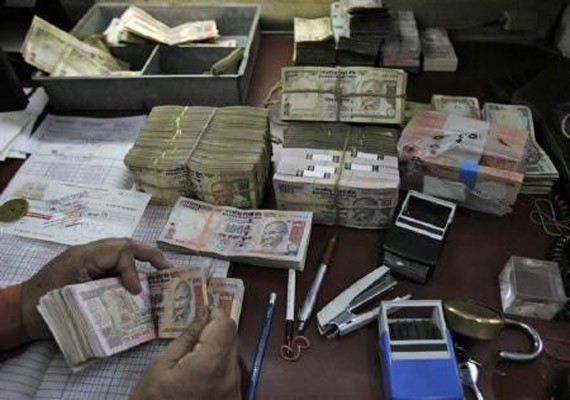 Mumbai, Mar 29: The rupee tumbled by 62 paise to close at almost 11-week low of 51.40/41 against dollar on sustained demand for the US currency from importers and some banks amid weakness in local stocks.
Chances of fresh capital outflows in the current situation weighed on the rupee, a forex dealer said.
At the Interbank Foreign Exchange (Forex) market, the domestic unit opened sharply lower at 51.04/05 a dollar from previous close of 50.78/79.
It soon touched a high of 50.98. However, sluggish stocks amid heavy dollar demand from importers, mainly oil importers, to meet their month-end requirements later weighed on the rupee and it fell back sharly to settle at 51.40/41, lowest closing since January 13, 2012 when it had settled at 51.52/53, showing a fall of 1.22 per cent.
Pramit Brahmbhatt, CEO, Alpari Financial Services (India) said, "Equity markets witnessed the near term lowest expiry today put pressure on rupee. Oil importers' demand and year-end payments also impacted the local currency.
"The Indian gold sellers who has been agitating over the rise In import tax has extended their strike till Saturday.  The end of the strike shall support the price as buying shall resume after that."
Meanwhile, the BSE benchmark Sensex today concluded lower by 63.01 points.
The dollar index was up by nearly 0.1 per cent against a basket of currencies while New York crude oil was trading just above USD 105 a barrel in European market today.
The rupee premium for the forward dollar ended further sharply weak on sustained receivings by exporters.
The benchmark six-month forward dollar premium payable in September dipped to 169-167 paise from overnight close of 183-183 paise and far-forward contracts maturing in March also dropped to 293-295 paise from 308-310 paise previously.
The RBI fixed the reference rate for the US dollar at 51.1450 and for euro at 68.2240.
The rupee reacted sharply downwards against the pound sterling to Rs 81.62/64 from yesterday's close of Rs 80.81/83 while moved down further against the euro to Rs 68.26/28 from Rs 67.83/85.
It, also, plunged against the Japanese yen to Rs 62.49/51 per 100 yen from Rs 61.18/20.