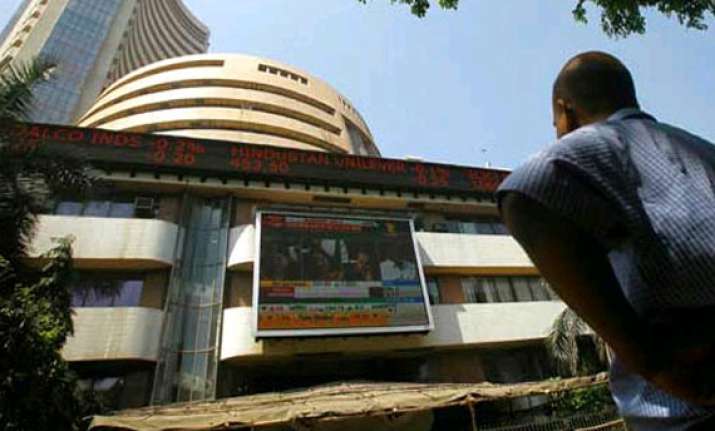 Mumbai : Led by strong buying support from foreign funds, a benchmark index of the Indian equities markets Monday broke the 22,000-point barrier in a new record high. The 30-scrip S&P Sensex (sensitive index) of the Bombay Stock Exchange (BSE) closed flat after rising to a record intra-day high of 22,023.98 points.
The Sensex hit the new record high surpassing its previous high of 21,960.89 points reached Friday (March 7, 2014).
The Sensex which opened in negative at 21,819.19 points, ended the day at 21,934.83 points, up 15.04 points or 0.07 percent from its previous day close at 21,919.79 points.
The index touched a high of 22,023.98 points and low of 21,805.22 points in the intra-day.
The wider 50-scrip S&P CNX Nifty of the National Stock Exchange (NSE) closed 10.60 points or 0.16 percent higher at 6,537.25 points.
Heavy selling pressure was seen in IT, healthcare, metal, technology, entertainment and media (TECk) and consumer durables.
The S&P BSE IT index was down 230.13 points, healthcare index was lower by 173.51 points, metals index was down 96.61 points, TECk index declined by 85.63 points and consumer durables index was lower by 54.60 points.
However, strong buying support was observed in capital goods, banks, oil and gas, automobile and reality stocks.
The S&P BSE capital goods index was up 311.29 points, followed by bank index which was up 259.50 points, oil and gas index up 101.34 points, automobile index rose 64.63 points and reality index was higher by 33.58 points.
Prominent Sensex gainers were: Maruti Suzuki, up 3.74 percent at Rs.1,800.90; Mahindra and Mahindra, up 3.42 percent at Rs.1,014.10; Larsen and Toubro (L&T), up 3.33 percent at Rs.1,237.40; HDFC Bank, up 3.23 percent at Rs.734.35; and State Bank of India (SBI)Bharti Airtel, up 2.58 percent at Rs.1,691.35.
Half of the 30 Sensex scrips closed in the red. These included Tata Consultancy Services (TCS), down 3.67 percent at Rs.2,143.50; Tata Motors, down 3.20 percent at Rs.395.90; Sun Pharma, down 2.64 percent at Rs.596; Gail India, down 2.27 points at Rs.379.15; and Coal India, down 2.25 percent at Rs.258.50.