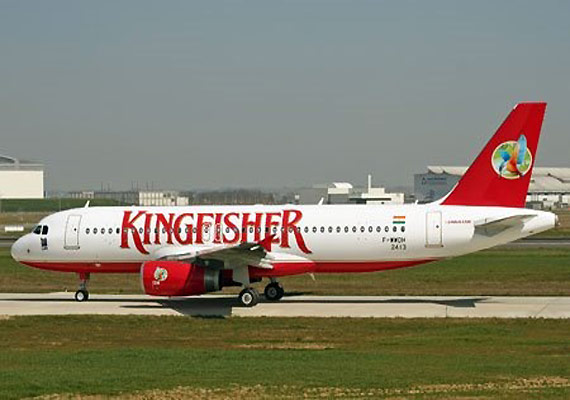 New Delhi, Mar 27: Ailing Kingfisher Airlines today said it has temporarily suspended operations from several major cities, including Kolkata and Hyderabad, and has asked nearly half of its 7,000-odd employees to stay at home till it managed to infuse fresh funds.
The airline, burdened by a debt of over Rs 7,000 crore, also did not rule out laying off some staff saying a decision on the issue would depend on various decisions to be taken by the government and its bankers about funding and related issues.
With a major cash-crunch leading to delayed payments of salaries and other dues for over three months, a spokesperson said the airline was putting in place a "holding plan" pending re-capitalisation and "there are several stations to which operations have been temporarily suspended".  
"Since we could resume operations after getting re-capitalised, most staff at these stations have been asked to stay at home whilst remaining on the Company's rolls," an airline spokesperson said.
Airline sources said the cash-strapped carrier, which used to fly to about 60 destinations, would now fly to less than 30 cities. Among the destinations from where operations were being temporarily suspended were Kolkata, Hyderabad, Patna, Lucknow, Thiruvananthapuram and Bhubaneshwar.  
They said that between 40-50 per cent of about 7,000 staff have been asked to stay at home, but they would remain on the Kingfisher rolls.
Regarding speculation about the airline's plans to retrench some staff, the spokesperson said "we are in a 'holding' pattern right now and are waiting for various decisions from the Government and our consortium of bankers on FDI policy, working capital funding, etc. All of these will have a major impact on the staffing decisions we will have to make."
The Kingfisher spokesperson said the airline has begun this year's summer schedule by operating approximately 120 daily flights with 20 dedicated aircraft.
For the past two months, it was flying 28 planes and 140 flights as part of a curtailed winter schedule as against 400 daily flights with 64 aircraft it had proposed earlier.  
Kingfisher has also paid Rs 44 crore towards TDS arrears, which was due on or before March 27, as directed by the Income Tax Appellate Tribunal in Bangalore, the spokesperson said.  
"Our keen intent is to get re-capitalised and to bounce back as a major player in civil aviation .... We will also protect the interests of all stakeholders, suppliers and service providers as an integral part of our recapitalization plans," he said.
A consortium of 13 PSU banks, including State Bank of India, have an exposure of Rs 5,608.07 crore to Kingfisher as on February this year, including Rs 1,408.45 crore for SBI alone. The airline has an accumulated loss of over Rs 6,000 crore.