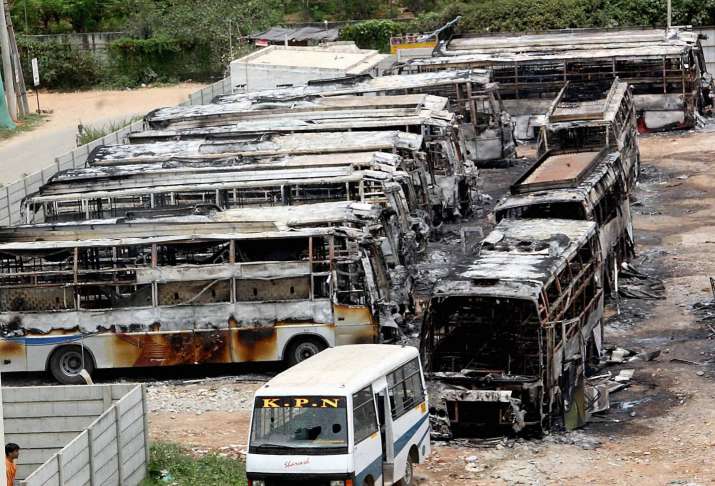 The Associated Chambers of Commerce of India (ASSOCHAM) has expressed concern over the ongoing agitation in Bengaluru over Cauvery dispute and pointed out that it has sullied the image of the city.
In a statement, ASSOCHAM said that the city is estimated to have suffered a loss between Rs 22,000-25,000 crore due to Cauvery dispute related violence.
"Violence in the state capital and other parts of Karnataka has severely dented the image of Bengaluru as Silicon Valley of India, home to almost all the Fortune 500 companies," said the chamber appealing for peace in both Karnataka and Tamil Nadu.
"The way the violent incidents had spread is demoralizing the business and industrial community, particularly in the capital city of Karnataka. The image that India built around Bengaluru as its 'Silicon Valley' is being sullied," said Assocham Secretary General D.S. Rawat.
"The authorities in Karnataka and Tamil Nadu should not allow under any circumstances the law and order to be compromised. While the water is a basic requirement and an emotional issue, the situation is being exploited by miscreants, scaring away the peace loving workforce which has settled in both Bengaluru and Chennai from all over the country and even abroad," said Rawat.
The industry body has also urged the central government to effectively monitor the situation and ensure peace is restored in the two states.
"A lot of damage has already been done to the trade and factory output with movement of the vehicles hit by the agitation which is taking violent shape. There is a huge stake for the country's showpiece information technology in both Bengaluru and Chennai."
(With IANS inputs)