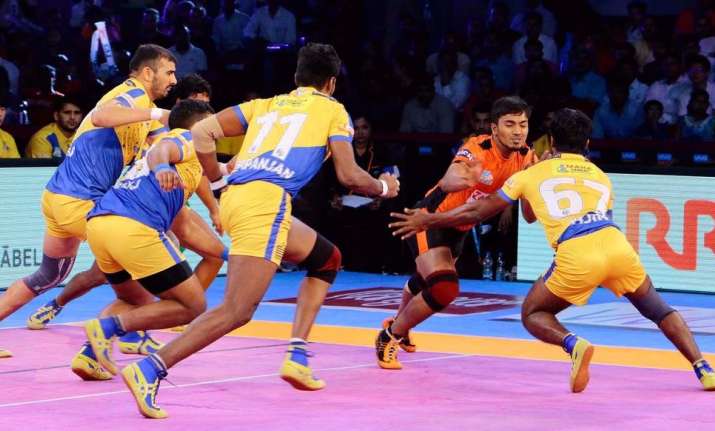 Ajay Thakur produced a terrific raiding performance to inspire Tamil Thalaivas to a 38-35 win over U Mumba in a Pro Kabaddi League match. Thakur also reached the 500 raid point milestone in the history of Pro Kabaddi League. He scored 15 raid points and delivered every time his team were looking down and out. 
U Mumba missed the experience of Anup Kumar and wilted under pressure. Darshan Kadian and Shrikanth combined to score 15 points for U Mumba but just fell short in the end. 
Tamil Thalaivas now have 40 points from 20 matches and are fifth in the Zone B table. U Mumba are now fourth in Zone A with 56 points from 21 matches. 
Ajay Thakur scored three raid points in three minutes as Tamil Thalaivas took a 5-1 lead after four minutes. Darshan Kadian made a super raid in the sixth minute as U Mumba trailed 6-7. 
U Mumba then scored five straight points to lead 10-7 in the 10th minute. Tamil Thalaivas misery was compounded further as they suffered an all-out to trail 8-14 after 12 minutes. 
Tamil Thalaivas defenders had a quiet first half as they could score just three tackle points. Thalaivas came back in the last five minutes of the first half to reduce the lead to just three points. U Mumba went into the half time break leading 18-15. 
The second half saw U Mumba in control of the proceedings as they continued to score tackle and raid points. U Mumba led 25-19 after 27 minutes. 
For Tamil Thalaivas, Ajay Thakur kept on scoring raid points but was not getting enough support. 
Tamil Thalaivas made a fight of it as they pegged down U Mumba as Ajay Thakur made a successful raid in the 31st minute. Thalaivas inflicted an all-out in the 34th minute to trail 29-30. Shrikant Jadhav made a successful raid in the 36th minute as U Mumba led 33-30. 
Ajay Thakur scored with another raid as Thalaivas trailed 32-33. Thalaivas led 35-33 in the 38th minute as they scored a tackle point. 
Mohan Raman scored with a two-point raid in the 40th minute as U Mumba levelled the match at 35-35. Thakur had the last word as he scored with a two-point raid in the dying seconds to win the match for Tamil Thalaivas.