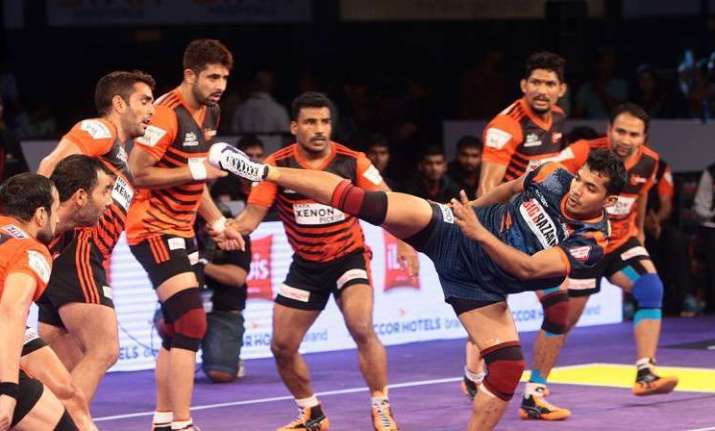 From playing on muddy grounds to glamourous pads surrounded by the roar of many, the Pro Kabaddi League has certainly taken the game to new heights. Built for the strong, fast and agile, this sport has been coming of ages as Star Sports broaddcasts Vivo Pro Kabaddi League. A sport which was recognised as rowdy is now up on screens, turning heads as the nation looks to embark upon a new journey with the introduction of the Pro Kabaddi League. With 4 seasons elapsed, and over 400 Million views per season, the Pro Kabaddi League has certainly rivalled the Indian Premier League (IPL) and Indian Super League (ISL).
The enthralling sport of Pro Kabaddi kick starts from 28th July as season 5 looks to bring in severe competition to the game as season 5 features and consists of four new teams. The defending champions Patna Pirates certainly have a lot to accomplish as they look to defend a successful title chase this season. With the auctions held at New Delhi this year in May, the league saw over 400 players in the pool. Until season 4 there were 8 teams. In this season, new teams – Uttar Pradesh, Haryana, Tamil Nadu and Gujarat have been added to the roster.
Being added as a new team to the league, Uttar Pradesh acquired the services of Nitin Tomar, making him the costliest player in the history of Pro Kabaddi League with a price of Rs.93 Lakhs. Suraj Desai was attained by Dabang Delhi for Rs 52.5 lakhs which is the highest bid for a Category B player in history of the Pro Kabaddi League. South Korea's Jang Kun Lee is now the most expensive overseas player after Bengal Warriors retained him for Rs 80.3 lakh.
Season 5 assuredly has set a new level of fierce competition as there are now 12 teams in the league looking to secure the coveted title that they fight for.
List of Pro Kabaddi League 2017, Season 5 Teams with the Players names:
Puneri Paltan, Squad strength: 15 (13 Indian, 2 Overseas)
Ziaur Rahman, Deepak Hooda, Takamitsu Kono, Girish Maruti Ernak, Sandeep Narwal, Dharmaraj Cheralathan, Ravi Kumar, Rajesh Mondal, Rohit Kumar Choudary, More G B, Umesh Mhatre, Akshay Jadhav, Ajay, Narender Hooda, Suresh Kumar
Bengal Warriors, Squad strength: 18 (16 Indian, 2 Overseas)
Ravindra Ramesh Kumavat, Jang Kun Lee, Sandeep Malik, Ran Singh, Ameares Mondal, PO Surjeet Singh, Bhupender Singh, Youngchang Ko, Shrikant Tewthia, Maninder Singh, Virendra Singh, Deepak Narwal, Shashank Wankhede, Rahul Kumar, Vinod Kumar, Anil Kumar, Vikash, Kuldeep
Bengaluru Bulls, Squad strength: 18 (16 Indian, 2 Overseas)
Harish Naik, Ashish Kumar, Sumit Singh, Ajay, Ravinder Pahal, Rohit Kumar, Sanjay Shrestha, Sinotharan Kanesharajah, Sachin Kumar, Mahender Singh, Pradeep Narwal, Gurvinder Singh, Kuldeep Singh, Amit, Rohit, Ankit Sangwan, Sunil Jaipal, Preetam Chhillar
Dabang Delhi KC, Squad strength: 20 (18 Indian, 2 Overseas)
Tapas Pal, Meraj Sheykh, Vishal, Nilesh Shinde, Abolfazel Maghsodlo, Ravi Dalal, Sunil, Bajirao Hodage, Suraj Desai, Patil Anand, Rohit Baliyan, Rupesh Tomar, Suresu Kumar, Viraj Vishnu Landge, Chetan S, Vipin Malik, Swapnil Dilip Shinde, Shubham Ashok Palkar, Satpal, Yatharth
Gujarat Fortunegiants, Squad strength: 18 (15 Indian, 3 Overseas)
Rohit Gulia, Fazel Atrachali, C Kalai Arasan, Sukesh Hegde, Abozar Mohajermighani, Mahendra Ganesh Rajput, Mahipal Narwal, Seongryeol Kim, Vikas Kale, Sachin, Manoj Kumar, Amit Om Prakash Rathi, Parvesh Bhainswal, Dange Sultan, Sunil Kumar, Rakesh Narwal, Pawan Kumar, Chandran Ranjit
Haryana Steelers, Squad strength: 22 (20 Indian, 2 Overseas)
Mayur Shivtarkar, Surender Nada, Vikash, Khomsan Thongkham, Neeraj Kumar, Mohit Chhillar, CPO Surjeet Singh, Sonu Narwal, David Mosambayi, Mahender Singh Dhaka, Deepak Kumar, Prashant Kumar Rai, Wazir Singh, Deepak Kumar Dahiya, Parmod Narwal, Rakesh Singh Kumar, Jeeva Gopal, Vikash Khandola, Kuldeep Singh, Babu M, Ashish Chhokar, Raju Lal Choudhary
Jaipur Pink Panthers, Squad strength: 19 (17 Indian, 2 Overseas)
Santhapanaselvam, Ajit Singh, Jasvir Singh, Manjeet Chhillar, Selvamani K., Donggyu Kim, Jaemin Lee, Manoj Dhull, Somvir Shekhar, Navneet Gautam, Pawan Kumar, Tushar Patil, Kamal Kishor, Vignesh B, Sunil Siddhgavali, Siddharth, Ravinder Kumar, Rahul Choudhary, Abhishek N.
Patna Pirates, Squad strength: 18 (16 Indian, 2 Overseas)
Pardeep Narwal, Parveen Birwal, Vijay, Arvind Kumar, Vishal Mane, Mohammad Maghsoudlou, Sachin Shingade, Md. Zakir Hossain, Monu Goyat, Jaideep, Jawahar, Manish, Satish, Virender Singh, Sandeep, Vikash Jaglan, Vinod Kumar, Vishnu Uthaman
Tamil Thalaivas, Squad strength: 25 (22 Indian, 3 Overseas)
Ajay Thakur, Bhavani Rajput, Prathap, Rajesh, Anil Kumar, Amit Hooda, Mugilan, Donggeon Lee , Waleed Al Hasani, Chansik Park, Anil Kumar, C. Arun, Sanket Chavan, T. Prabhakaran, M. Thivakaran, Sombir, Vijay Kumar, Vijin Thangadurai, Muruthu M, Vineet Sharma, K. Prapanjan, Sujit Maharana, Darshan J., Sarang Arun Deshmukh, Ananthkumar
Telugu Titans, Squad strength: 18 (16 Indian, 2 Overseas)
Vishal Bharadwaj, Rahul Chaudhari, Athul M S, Farhad Rahimi Milaghardan, Sombir, Rakesh Kumar, Mohsen Maghsoudloujafari, Rohit Rana, Vinod Kumar, Vikas Kumar, Amit Singh Chillar, Nilesh Salunke, Vikas, Vinoth Kumar, Vikrant, Munish, Elangeshwaran R, Ankit Malik
U.P Yodhha, Squad strength: 18 (16 Indian, 2 Overseas)
Pankaj, Nitesh Kumar, Rajesh Narwal, Sulieman Kabir, Nitin Tomar, Jeeva Kumar, Hadi Tajik, Rishank Devadiga, Gurvinder Singh, Mahesh Goud, Surendra Singh, Santosh B.S, Rohit Kumar, Ajvender Singh, Sanoj Kumar, Sunil, Gulveer Singh, Sagar B. Krishna
U Mumba, Squad strength: 18 (15 Indian, 3 Overseas)
E Subash, Anup Kumar, Shiv Om, Surender Singh, Hadi Oshtorak, Dongju Hong, Joginder Singh Narwal, Kuldeep Singh, Yongjoo Ok, Kashiling Adake, D. Suresh Kumar, Nitin Madane, Darsan, Shabeer Bappu, Shrikant Jadhav, N. Renjith, Deepak Yadav, Mohan Raman G
Vivo Pro Kabaddi League 2017, Season 5 Schedule:
| Date | 1st Match - 08:00 PM IST | 2nd Match - 09:00 PM IST | Venue |
| --- | --- | --- | --- |
| 28-Jul | HYD vs CHE | MUM vs PUN | Hyderabad |
| 29-Jul | JAI vs DEL | HYD vs PAT | Hyderabad |
| 30-Jul | MUM vs HAR | HYD vs BLR | Hyderabad |
| 1-Aug | GUJ vs DEL | HYD vs UP | Hyderabad |
| 2-Aug | GUJ vs HAR | HYD vs KOL | Hyderabad |
| 3-Aug | HYD vs PAT | - | Hyderabad |
| 4-Aug | BLR vs CHE | PUN vs DEL | Bengaluru |
| 5-Aug | MUM vs DEL | BLR vs UP | Bengaluru |
| 6-Aug | KOL vs UP | BLR vs PAT | Bengaluru |
| 8-Aug | GUJ vs HAR | BLR vs HYD | Bengaluru |
| 9-Aug | BLR vs KOL | - | Bengaluru |
| 10-Aug | PUN vs JAI | BLR vs CHE | Bengaluru |
| 11-Aug | GUJ vs MUM | - | Ahmedabad |
| 12-Aug | HYD vs UP | GUJ vs DEL | Ahmedabad |
| 13-Aug | PAT vs UP | GUJ vs JAI | Ahmedabad |
| 15-Aug | KOL vs PUN | GUJ vs BLR | Ahmedabad |
| 16-Aug | HAR vs CHE | GUJ vs HYD | Ahmedabad |
| 17-Aug | DEL vs CHE | GUJ vs KOL | Ahmedabad |
| 18-Aug | UP vs MUM | BLR vs JAI | Lucknow |
| 19-Aug | HYD vs MUM | UP vs HAR | Lucknow |
| 20-Aug | PAT vs PUN | UP vs JAI | Lucknow |
| 22-Aug | GUJ vs PUN | UP vs KOL | Lucknow |
| 23-Aug | HAR vs DEL | UP vs CHE | Lucknow |
| 24-Aug | UP vs HYD | - | Lucknow |
| 25-Aug | MUM vs JAI | KOL vs PAT | Mumbai |
| 26-Aug | PAT vs CHE | MUM vs PUN | Mumbai |
| 27-Aug | KOL vs BLR | MUM vs DEL | Mumbai |
| 29-Aug | BLR vs UP | MUM vs GUJ | Mumbai |
| 30-Aug | MUM vs HAR | - | Mumbai |
| 31-Aug | HYD vs CHE | MUM vs JAI | Mumbai |
| 1-Sep | KOL vs PAT | - | Kolkata |
| 2-Sep | GUJ vs HAR | KOL vs UP | Kolkata |
| 3-Sep | GUJ vs JAI | KOL vs CHE | Kolkata |
| 5-Sep | PAT vs JAI | KOL vs HAR | Kolkata |
| 6-Sep | DEL vs BLR | KOL vs MUM | Kolkata |
| 7-Sep | HYD vs PUN | KOL vs DEL | Kolkata |
| 8-Sep | HAR vs PAT | GUJ vs UP | Haryana |
| 9-Sep | PAT vs MUM | HAR vs BLR | Haryana |
| 10-Sep | BLR vs PUN | HAR vs HYD | Haryana |
| 12-Sep | KOL vs HYD | HAR vs DEL | Haryana |
| 13-Sep | CHE vs UP | HAR vs PUN | Haryana |
| 14-Sep | HAR vs JAI | - | Haryana |
| 15-Sep | PAT vs HYD | MUM vs GUJ | Ranchi |
| 16-Sep | BLR vs HYD | PAT vs UP | Ranchi |
| 17-Sep | JAI vs DEL | PAT vs KOL | Ranchi |
| 19-Sep | PUN vs HAR | PAT vs BLR | Ranchi |
| 20-Sep | PAT vs CHE | - | Ranchi |
| 21-Sep | JAI vs HAR | PAT vs UP | Ranchi |
| 22-Sep | DEL vs MUM | - | Delhi |
| 23-Sep | BLR vs KOL | DEL vs PUN | Delhi |
| 24-Sep | KOL vs CHE | DEL vs HAR | Delhi |
| 26-Sep | GUJ vs CHE | DEL vs PAT | Delhi |
| 27-Sep | HYD vs JAI | DEL vs UP | Delhi |
| 28-Sep | BLR vs MUM | DEL vs HYD | Delhi |
| 29-Sep | CHE vs PUN | GUJ vs PAT | Chennai |
| 30-Sep | PUN vs UP | CHE vs JAI | Chennai |
| 1-Oct | JAI vs KOL | CHE vs MUM | Chennai |
| 3-Oct | DEL vs GUJ | CHE vs HYD | Chennai |
| 4-Oct | MUM vs HAR | CHE vs UP | Chennai |
| 5-Oct | CHE vs BLR | - | Chennai |
| 6-Oct | JAI vs GUJ | Wild card | Jaipur |
| 7-Oct | Wild card | JAI vs MUM | Jaipur |
| 8-Oct | Wild card | JAI vs PUN | Jaipur |
| 10-Oct | Wild card | JAI vs DEL | Jaipur |
| 11-Oct | Wild card | JAI vs HAR | Jaipur |
| 12-Oct | Wild card | - | Jaipur |
| 13-Oct | PUN vs GUJ | KOL vs CHE | Pune |
| 14-Oct | CHE vs PAL | PUN vs MUM | Pune |
| 15-Oct | BLR vs UP | PUN vs DEL | Pune |
| 17-Oct | PUN vs HAR | - | Pune |
| 18-Oct | PAT vs BLR | PUN vs JAI | Pune |
| 20-Oct | HYD vs KOL | PUN vs GUJ | Pune |
| Oct 22-23 | - | - | Mumbai |
| Oct 26-28 | - | - | Chennai |