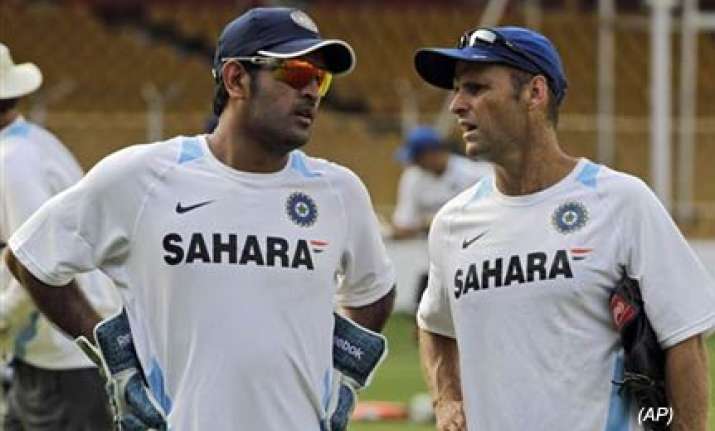 Nagpur, Nov 18: The Indian team's morning net session tomorrow may be hampered, even if there isn't any downpour -- courtesy, the uncovered practice wickets at the VCA Stadium in Jamtha.
After heavy downpour led to the afternoon optional session for the Indians being cancelled, it was surprising to find that only two among the six practice wickets adjacent to the main stadium were covered as there was considerable amount of waterlogging on the four other strips.
"We have enough covers for the practice pitches but then we needed some of those to cover a few areas in the outfield," curator Praveen Hinganikar told PTI.
The covers in question were laid at the outfield towards the pavilion end. Hinganikar gave an interesting explanation as to why only that particular area in the outfield needed to be covered.
"That particular area doesn't get enough sunlight which helps in surface drying up fast so we needed to cover that area," the curator, a former Vidarbha captain said.
With four among the six wickets uncovered, it could mean that the Indians, who will be having nets in the morning, may find the wickets damp and not conducive for a serious session before an international match. And if the weather is fine, then by afternoon, when the practice wickets dry up, the New Zealand team is scheduled to have their nets.
Even Hinganikar conceded that the morning session tomorrow may be a problem. Not only the uncovered wickets, the bowler's run-up area will also be of concern as the softness underneath can cause injury to the pacers. India's attack has already been depleted by the absence of number one strike bowler Zaheer Khan.
"Today, we quickly covered two wickets as we thought if rain stops we can provide them with those two practice strips. But if the weather remains like this, it may even cause water to seep in through the cover," Hinganikar said.  PTI