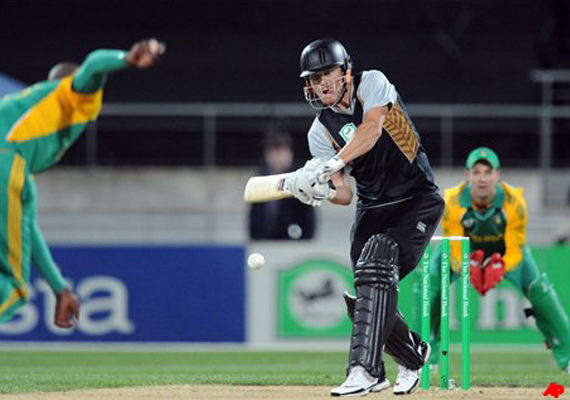 Wellington, New Zealand, Feb 18: Martin Guptill scored his sixth half century in successive innings as New Zealand beat South Africa by six wickets in the opening Twenty20 cricket international on Friday.

Guptill carried his bat for 78 as New Zealand, with 148-4, surpassed South Africa's 20-over total of 147-6 with four balls to spare.

Guptill's purple patch of form has seen him score half centuries in a test, three one-day internationals and a Twenty20 match against Zimbabwe and he continued the momentum into the first of New Zealand's three Twenty20s against South Africa.

The second match is at Hamilton on Sunday.

JP Duminy made 41 and Justin Ontong 32 as South Africa's top scorers but its innings was poorly paced and it failed to hit a boundary from the fourth to the 14th overs.

New Zealand chose offspinner Nathan McCullum to open the bowling and used four spinners on a drop-in pitch which was often two-paced and which confounded South Africa's big hitters.

McCullum bowled his four overs at a cost of only 16 runs as South Africa got away to a slow start from which it struggled to recover.

Big-hitting Richard Levi made only 13 from 12 balls and Hashim Amla 19 from 15. Colin Ingram was out for a duck, stumped by Brendon McCullum off his brother's bowling, and South Africa captain AB de Villiers failed to break the shackles as he managed only 8 from 19 balls in an innings which lacked a boundary.

"We didn't start well, especially myself, and that put a lot of pressure on the rest of the boys," de Villiers said

"We came back reasonably well and I thought we fielded well but I made a couple of mistakes captaincy-wise.

"We weren't surprised New Zealand opened with a spinner — we expected something in that line from them and we should be professional enough to adapt."

Duminy made a slow start, lacking timing and placement, but he gradually grew in confidence and eventually took his 41 runs from 37 balls, batting into the 18th over.

Ontong survived a confident appeal for a caught behind when he was 7 and South Africa was 75 and when replays showed his attempted sweep off Kane Williamson skidded off the blade of his bat, onto his shoulder and to McCullum running back behind the stumps.

He shrugged off the incident to hit four straight sixes off Williamson and to give the South African innings its greatest impetus.

Guptill carefully measured New Zealand's run chase, working methodically through partnerships of 49 with Rob Nicol (13), 41 with Brendon McCullum (16) and 37 with Kane Williamson (24).

His innings included five fours and four sixes, including a massive six off Lonwabo Tsotsobe which pitched on the roof of the grandstand overhanging Westpac Stadium, almost 400 feet (120 meters) from the pitch and 100 feet (30 meters) off the ground.

A carefully paced run chase left New Zealand needing six runs from the last over and James Franklin casually knocked off those runs with a two and a four from the first two balls from Johan Botha.

"Martin Guptill is in the form of his life at the moment and he makes the job of chasing runs much easier for the rest of us," McCullum said.