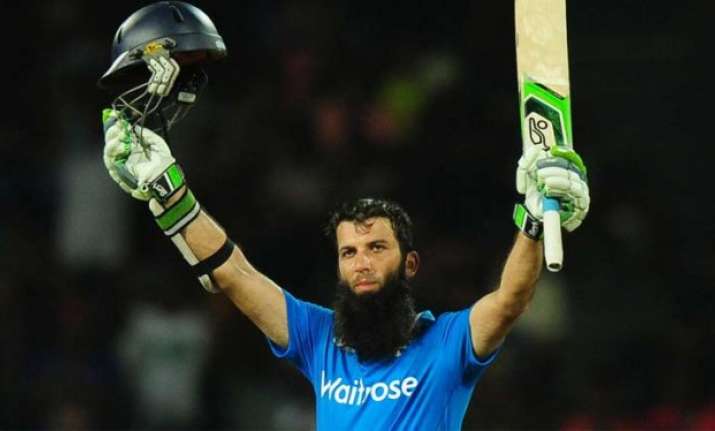 New Delhi:  Featuring on the front cover of the 'Cricket Bible- Wisden Almanack' will certainly  feel great and England's bowler Moeen Ali is no exception who has been chosen for the front cover of this year's Wisden.
Just a year ago Ali was one of the players dreaming to play for his country but now he is a significant figure in cricket and culturally, having first proved to be a role model for British Muslims and then showed what an exciting cricketer he is with both bat and ball.
'It's gone very quickly. It's been a really good year and hopefully there will be a few more for me with the England team,' said Moeen.
He made it into England side after Ashes humiliation last year.
Moeen knows what it means to be highlighted by the cricket bible and said 'Somebody sent me the Wisden picture and it's really nice. It's an honour to be on the front of it. I have a couple of copies from the past and my dad's definitely going to get the new one.'
Moeen is proving himself just as important to the ODI team as the Test one now and it would be no surprise if Lawrence Booth, Wisden editor and Sportsmail cricket writer, selects him as one of his five cricketers of the year when the Almanack is released in April 2015.
Moeen Ali is turing out to be a reliable player for England inrecent times with both bat and bat. In the ongoing Carlton Mid ODI Tri-Series, he played a promising inning of 46 runs and took 2 wickets. India and England will face each other in the 6th match of the tri-series which is considered a vertual semi-final of the tournament.
Commenting on his recent performance, Ali said 'I don't think I played that well in Hobart. I struggled a bit early on but because Belly was going so well I didn't have to do anything stupid — even though I did in the end!'
'I've started off quite well with the ball, trying not to go for too many runs,' said Moeen.
So far Ali has played 15 ODIs and 7 Tests in which he has taken 14 and 22 wickets respectively.
He scored a hundred as opener against Sri Lanka before Christmas and he put on England's first century opening stand for two years with Ian Bell against Australia.
'I didn't have rhythm and I tried to force it a bit. Belly said, "It'll come, it'll come," but I gave it away and hopefully I can learn from it.'
'If I bowl flight to these guys they'll murder it so I try not to give too much air. But when conditions are right with a bit more spin I'll look to attack a bit more.'
England must beat India at the WACA on Friday to qualify for the Tri-series final against Australia.