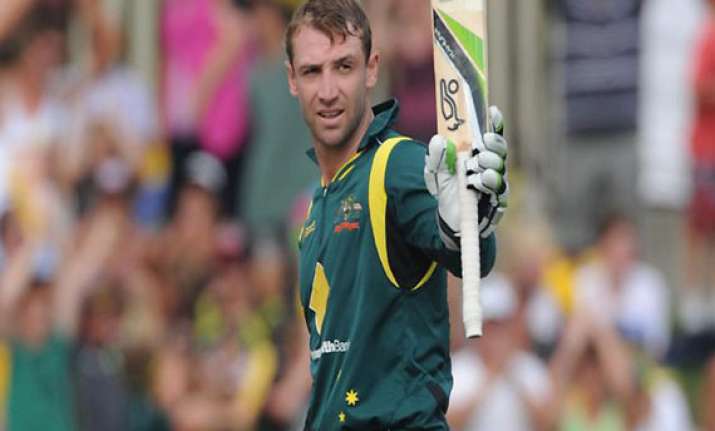 Ranchi: Indian bowlers might be cursing the new ODI rules of using two balls from either end of the ground but the visiting Australian side, who has a fiery pace attack, is quite happy with the change in the playing conditions.
The 3rd ODI at Mohali saw Indian pacer
Ishant Sharma
clobbered  for 30 runs in his one over by James Faulkner that eventually sealed the game for visitors.
Australia opener Phil Hughes said, "What's going ahead has been fantastic. If you look around at the different countries it works in different ways. You come here and the wickets are quite good for batting but if you go to England or Australia you could have a pitch that offers more for bowlers," Hughes said.     
"You'll see games that are 30/3 up front. It's different conditions. I think it's a great thing about touring around the world. You see different scores and there've been a lot of big scores in this series to date," Hughes told reporters at the pre-match press conference.     
With the introduction of two new balls, the Indian pacers who rely more on reverse swing after the ball becomes old, have been rendered ineffective.     
"If you look at the last game, it was a great batting performance from everyone. Ishant has been a quality bowler around the world for a number of years. You always respect that," he added.     
"We respect all their bowlers. There's no certain plan. Ashwin's been a very good performer for a number of years and we respect him. Definitely as batsmen we respect all the bowlers. When a bowler has a ball in their hand, they're always a chance of bowling a dot or getting a wicket," he said about their aggressive approach in India.     
Aussies had returned home with a 0-4 thrashing in the Test series in February-March this year and Hughes said they have moved on from that defeat.     
"The Test series wasn't as successful as we'd have liked. This is a different format. I suppose the wickets are different and it's a white ball. But there's a couple of things I've picked out of the Test series I took home and worked on," he said.